Couldn't make it to The Real Deal's NYC event? Too bad – here's what you missed
Panelists discussed luxury market, shifting commercial scene and foreign buyers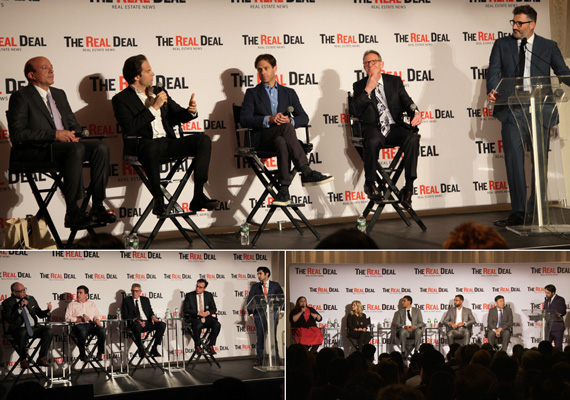 In the past year, The Real Deal has hosted big events in Fort Lauderdale, Miami, Toronto and as far as Shanghai. But there's no place quite like home. About 4,000 dealmakers flocked to TRD's New York Real Estate Showcase and Forum on Thursday to show off their projects and hear some of the industry's top players discuss the latest trends in the market.
Held at the Metropolitan Pavilion in Chelsea, the event kicked off with a standing-room-only luxury residential panel that brought together four developers hawking top-shelf Manhattan product: Arthur Zeckendorf, Ian Bruce Eichner, Billy Macklowe and Michael Shvo.
Zeckendorf, Macklowe and Shvo said New York luxury real estate didn't have a demand problem, it had a sentiment problem, blaming in part the media's portrayal of a softening market.
When development demand slows, pull the dated "blame the media" card. Embarrassing. @KathyClarkeNYC @trdny https://t.co/k8xDilNm3W #trdnyc

— Jonathan Miller (@jonathanmiller) May 12, 2016
Eichner was having none of it. "It falls to me to be the guy who says what really is," he said, noting that buyers were taking their time to find better values.
The event attracted 35 exhibitors that showcased new development projects in New York City, Miami and elsewhere, as well as a range of services from mortgage brokerage to custom suits. There were the usual freebies such as pens and keychains, but the booth for 196 Orchard Street took it up a notch (or should we say nosh?), treating guests to scrumptious sandwiches from Katz's Deli, which is adjacent to the project. TRD's sister publication Luxury Listings NYC had a booth for the first time, and the magazine showed off some of its glitziest covers, including the March issue with cover star and NFL Hall of Famer Michael Strahan. The schmoozing reached a peak midway through the event, with the scene more resembling a bar at happy hour.
So many egos in one place: TRD Real Estate Showcase. Thanks @trdny for an awesome day #TRDNYC pic.twitter.com/TQZtg9FRFj

— Armand Boyajian (@ArmandBoyajian) May 12, 2016
The second panel of the day zeroed in on the big-picture changes coming to the commercial real estate market. WeWork president Artie Minson spoke about the radically different ways millenials interact with space, and described the $16 billion co-working company's business as "programming for real estate." Cushman & Wakefield's Bruce Mosler said that once the top-grade product would hit Brooklyn, the tenants would follow, while RKF's Robert Futterman said the retail market was due for a "major adjustment" in prices. TerraCRG's Ofer Cohen said the expiration of 421a was hobbling Brooklyn's investment sales market, with dollar volume of trades on pace to drop 65 percent this year.
Due to New York's status as a global destination, foreigners have long played a role in shaping the market, and the final panel discussed the shifts in that demographic. Douglas Elliman's Raphael De Niro spoke of the emergence of Indian and Singaporean buyers, while Compass' Robert Reffkin and Stribling's Elizabeth Ann Stribling-Kivlan said the economic unrest in China had created urgency for U.S. assets, both from individuals and institutions.
With so many closers in the room, there was bound to be a post-event bash — scores of attendees hopped in limos, pressed the flesh and struck deals at the afterparty, which was held at 80 Washington Place, an 1839 Georgian landmark townhouse.
Don't fret if you couldn't make it this time. We'll be throwing events in Los Angeles in September, Miami in October and Beijing in November. See you there!
That's a wrap! Cheers to all of our #TRDNYC attendees. We'll see you next year. pic.twitter.com/cwX9GA9khp

— The Real Deal (@trdny) May 12, 2016