Paydirt: Barnett's high-wire act, the rental retreat, Heiberger's Town … & more
The industry news you need to know to start your week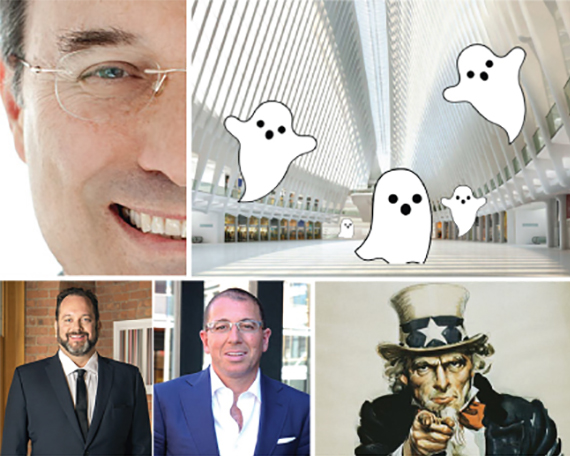 (Paydirt is a new weekly column that riffs on the biggest NYC real estate news of the moment, providing analysis and historical context on the deals and players that make this town tick.)
In Gary we trust.
The industry thinks of Gary Barnett as its very own Houdini: "What will he pull off next?" is a common refrain, and the Extell Development chief has made out like a bandit on a number of risky ventures (the Ring portfolio deal stands out). He's now close to finalizing a $600 million construction loan for One Manhattan Square, a deal that also allows him to receive his mezz funds and placate his investors in Tel Aviv, where his bonds have been getting hammered. The next challenge? Central Park Tower, a $4.4 billion supertall that skeptics are betting won't get off the ground this cycle.
Meanwhile, Harry Macklowe is back on the quest for funds, seeking a cool $1 billion for his conversion of One Wall Street. He's obviously got a bit of a spotty record with the banks, so it'll be interesting to see where he goes — at 432 Park, his lender was the Children's Investment Fund, but sources said he's paying a steep 10 percent for that money. CIF also just provided Related's $1.2 billion loan for 35 Hudson Yards, though the development giant is likely to have got better terms than Macklowe.
Bigger mouth, still missing teeth: The Treasury Department said it will expand  its pilot program requiring title insurance companies to identify the true buyers behind anonymous, all-cash deals. It's moving from simply being a Manhattan headache into a citywide one, kicking in for all-cash purchases above $1.5 million.
More transparency is obviously good. But it's curious to expand a program that has such serious limitations. Remember, all-cash buyers who want to avoid disclosure can simply use wire transfers, a loophole that sources previously told TRD is "large enough you can drive a fleet of trucks through."  If anything, this expansion may increase title firms' already cartel-like hold over the industry, as it expands the pool of buyers who may wire funds to them in advance of closings.
The Fight's over, Joe: After a five-year partnership that came with extra helpings of drama, Andrew Heiberger bought Joe Sitt out of his stake in Town Residential.
Observers hope the move brings more stability to a brokerage that quickly catapulted into the big leagues but has been rocked by C-suite squabbles. And rivals are always circling to pick off top talent: two stars, Ginger Brokaw and Jason Karadus, moved to Brown Harris Stevens last week.
No thunder down under: Crikey! Progress at the World Trade Center mall isn't going quite the way Aussie mall giant Westfield would have hoped. Retailers are backing out at a crucial time, and given that co-tenancy thresholds are common at big retail projects nowadays, rent breaks and/or more legal battles appear to be in the cards. There is one big positive on the horizon, though: Apple recently confirmed its commitment to its space.
Rental market retreat: While the rent may be too damn high for Jimmy McMillan, it's not doing enough for David Neithercut's liking.
The CEO of Equity Residential said  last week that the amount of new supply — 14,000 new units per year in 2017 and 2018 — slated to hit the New York market was troubling, and that the REIT has lowered its revenue growth expectations. Other New York developers, however, are programmed for optimism: Douglaston's Jeff Levine said that the death of 421a would curb new rental construction and thus keep prices from slipping.
"Like watching walruses on a rock": That's how New York Magazine's Adam Platt described the experience of watching the city's machers — real estate players very much in the mix — power lunch at the Four Seasons, which finally bid farewell to BFF Aby Rosen and his Seagrams Building this month.
Up for sale last week were trinkets and furniture from the joint, including a set of ashtrays that fetched $10,000. Architecture critic Paul Goldberger, perhaps hoping to capture a keepsake or two of his own, was quickly disillusioned. "I doubt that I can afford a spoon at the rate this is going," he tweeted. Perhaps if he hocked his Pulitzer?