Mount Sinai signs for 26K sf on Billionaires' Row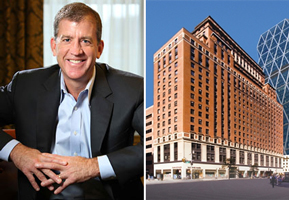 Mount Sinai Health System's corporate executive offices inked a lease to take up residence at Empire State Realty Trust's West 57th Street building.
The hospital network would occupy 26,100 square feet across the entire 15th floor of 250 West 57th Street, the Commercial Observer reported.
The asking rent was $67 per square foot. It's the third full-floor lease since ESRT announced its redevelopment of the building, according to the REIT.
Last year, GuildNet, the health management services division of Lighthouse Guild, signed a 10-year lease for 37,000 square feet on the 10th and part of the ninth floor of the 26-story, 430,000-square foot building. Architecture firm CookFox [TRDataCustom] also signed a 16-year lease to take just over 18,000 square feet at building.
The ESRT, which officially went public in 2013, owns the Empire State building and several other office properties in the city. [CO] — Miriam Hall