WeWork revamps company, hires former Brooklyn Bowl and Starwood execs
Co-working startup gets new structure as IPO rumors swirl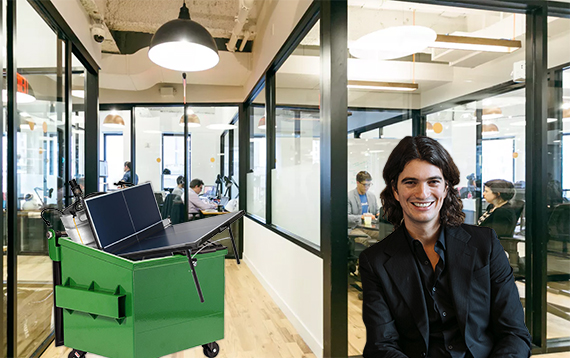 WeWork's $17 billion business was built on the foundation that it could lease loads of office space to hungry startups across the globe. And for years, the company's own structure looked like that of its customers. Even as WeWork grew to an enormous size, it was run more or less like an upstart tech company. But no longer.
Earlier this year WeWork hired the former president of entertainment center Brooklyn Bowl and a former Starwood Property executive to high-level positions and revamped its business structure, in an attempt to give the young company a more corporate shape.
James Woods, long-term head of Brooklyn Bowl, joined the company as the new head of its co-living line, WeLive. Richard Gomel, a former executive at Starwood Capital Group and Starwood Hotels & Resorts who most recently worked for Junius Real Estate Partners, now heads the company's co-working business. Both officially took up their posts in January.
Along with the hirings WeWork partitioned itself into four divisions: co-working, co-living, services and an "enterprise" business that caters to big corporations.
"As we've been growing we realized that we actually have different business lines," Jennifer Berrent, the company's chief culture officer, told The Real Deal. Prior to the changes, WeWork was divided solely by functions (leasing, technology, legal, customer service, and so forth) – as most startups and small companies are. Those functions still exist, but they are now joined by the four business lines and by geographic areas (New York, Asia, etc.) as dividing lines in what Berrent calls a "matrix" structure. Adam Neumann will continue to lead the company as CEO, Berrent said.
The new hires came 18 months after WeWork hired the former Time Warner Cable CFO Artie Minson as its president.
Splitting a company into business lines and geographies is common among large, public companies — and that may be where WeWork is heading. In July Neumann said the company is considering an IPO, but did not specify when. "One thing we're not afraid of is going public," he said at a conference hosted by Fortune.
Berrent told TRD that the structural changes were not made with an IPO in mind.
WeWork is trying to move forward from a disappointing year, in which the company cut profit projections dramatically — by 78 percent, according to leaked documents. It also stalled the expansion of its WeLive line.
As of December the company had around 1,600 employees.
TRD recently reported that WeWork's business is starting to resemble a conventional corporation more than a bootstrappy tech startup. For example, the company has considered launching a real estate investment fund.
People familiar with WeWork say the firm has lacked seasoned executives and defined structures prior to the latest changes. In typical startup manner, the co-founders Adam Neumann and Miguel McKelvey have had a broad range of responsibilities, and employees often felt free to chime in on areas that weren't strictly their job, sources say.
But what works for a small startup can become problematic as a company grows. "It's an area I think a lot of companies do struggle with," said Talia Goldberg, of venture capital firm Bessemer Venture Partners, who couldn't comment on WeWork and spoke generally. She explained that startups often have trouble adjusting their business structures amid rapid growth. In some cases founders are reluctant to give up control over different parts of operations, impeding a company's evolution. "Founders and CEOs can't be great at everything," she said.