This time it's personal: LaBarbera says nonunion group's opposition to construction safety bill is "hypocritical"
Union group says ABC doesn't promote diversity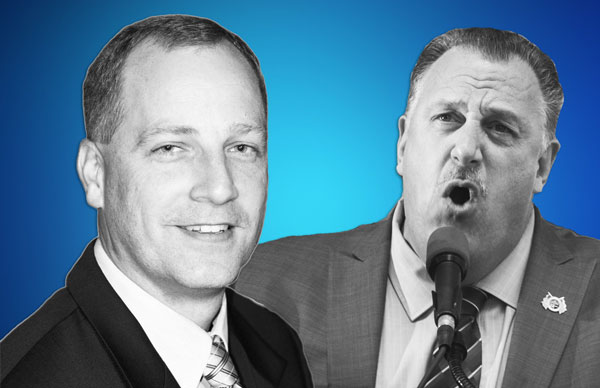 The Building and Construction Trades Council is ramping up its attacks on a nonunion group that it says isn't very active in New York City, as the City Council continues to negotiate a contentious construction safety bill.
The group released the results from a public information request for data from the state Department of Labor, which shows details on members of the Associated Builders and Contractors who are involved in construction training programs. The data, BCTC argues, shows that ABC, which is based in upstate New York, is minimally involved in the city and that its membership isn't diverse. According to the data provided, only 46 people were trained through an apprenticeship program sponsored by ABC in New York City and Long Island. Of that group, 73.9 percent are white, 19.5 percent are Hispanic and 6.5 percent are black, according to roster reports provided to the state.
ABC has been one of the most vocal groups to oppose a construction safety bill that's currently being negotiated by the City Council. The group, along with the Real Estate Board of New York, is part of a coalition that launched a campaign against the legislation, arguing that its 59-hour safety training requirement would disproportionately put minority workers at a disadvantage.
BCTC President Gary LaBarbera, who's previously contended that ABC isn't a major player in the city's construction industry, said the Department of Labor data shows that ABC isn't invested in promoting diversity.
"ABC is just oozing hypocrisy," LaBarbera told The Real Deal on Wednesday. "Their own training program shows a lack of diversity."
ABC president Brian Sampson said that the organization's members hire workers from diverse racial and ethnic backgrounds, who receive safety training regularly. He said that apprenticeship programs tend to focus on individual trades rather than safety training.
"The real story here is that after the Building Trades spent months trying to dismiss ABC's presence and ignore us, they've now apparently changed course and are using their time and resources to publicly attack us," he in a statement. "We're surprised to see them expend so much energy on cherry picking misleading data, especially because they still haven't publicly released the raw data on their own training programs in New York City and Long Island."
(BCTC provided the following numbers to TRD: The organization has 5,269 apprentices in the city, 32 percent of which are white and 68 percent are minorities).
It should be noted that the data provided by BCTC clearly doesn't represent the demographics of all nonunion laborers in the city. A March study by the Economic Policy Institute, for instance, found that 75.3 percent of the nonunion construction workforce in the city was made up of minorities. Of the union workforce, 55 percent were minorities, according to the report.
BCTC's shot at ABC comes as the fate of the construction safety legislation remains unclear. Last month, officials made clear that the bill wouldn't be voted on until after the Sept. 12 election primary. Councilmember Jumaane Williams has indicated that many details of the bill, including the duration of required safety training, are still being discussed.