Knotel trolls WeWork by parking bus outside its HQ
Startups compete in flex office space industry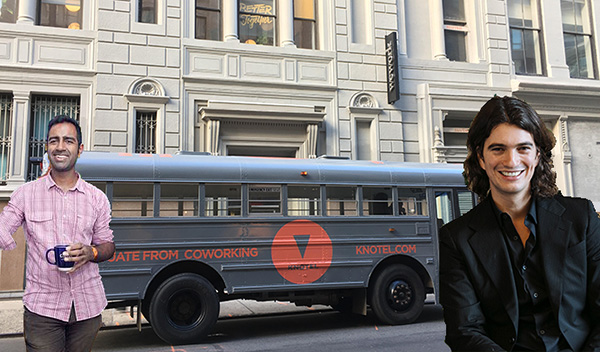 Is it a school bus? Is it a prison bus? No, it's a flexible office space startup trying to mess with its $20 billion rival.
Several WeWork members and employees had a strange encounter on Friday, when a gray bus advertising rival office space provider Knotel parked outside the company's Headquarters On West 18th Street.
"Graduate from coworking" read the ad on the side of the bus.
Like WeWork, Knotel offers serviced office space on a flexible lease, but it doesn't cater to freelancers or entrepreneurs in search of a single desk and doesn't refer to itself as a co-working company.
In February, Knotel raised $25 million in venture funding. "We intend to build a vast global enterprise," the company's founder Amol Sarva said at the time.
WeWork has similar ambitions, but a lot more money. It recently raised $4.4 billion from Japanese conglomerate SoftBank at a reported $20 billion valuation.
A source told TRD that the bus left after about an hour. It wasn't clear whether any WeWork members boarded it.