The best gifts for the real estate-obsessed
<i>TRD</i> may receive a commission when you purchase products through our affiliate links, but our reporting and products remain independently selected
If you're a regular TRD reader, chances are that there are at least a few people in your orbit who are obsessed with real estate. And hey, that probably describes you too! Since the holiday season is in high gear — and you really should've gotten all your shopping done already — we present you with some gift ideas for your friends, family, broker or landlord (although, shouldn't he/she really be giving YOU a present?)
Below, TRD lists a few of the best real estate-themed gifts out there.
1. Maps!
No matter how many years you've lived here, you still use Google Maps to figure out how to get anywhere. It's okay. That's why maps have become charming relics that we use a decor! This tasteful subway map is a perfect addition to the most minimalist and chic of city apartments. And since not everyone limits their home to just one city; you can gift this set of city maps to the friend whose acquisitions (or at least ambitions) range far outside Manhattan markets.
2. Fancy desk clock
The real estate industry rarely sleeps and those who follow it do so at all hours of the day. Make sure your real estate lover is ready for deals the world over with this multi-zone desk clock. It's subtle enough for every desk and always on time.
3. 3-D skyscraper puzzles
This intricate puzzle will entertain the child-at-heart with a renewed love for some of New York's most classic icons. It's sweet to keep on a desk. And for those who actually have children of their own, check out this incredible LEGO Empire State Building, which is perfect for architects-in-training.
4. NYC-scented candle (that smells good)
There's nothing like New York, and there's certainly nothing like the way it smells. This Homesick candle captures the best of the NYC smells — subtle but bright, like spring. No burnt street pretzel smell here!
5. City map tie
Spice up your colleague's work lewk with a Josh Bach tie that features a detailed city map. It comes in different colors, so make sure to pick one the hue that matches their best power suit.
6. City-themed knick knacks
This beautiful glass subway car is a classically NYC addition to any Christmas tree, if you giftee celebrates. For a more modern look, check out this rounded ornament that features a subway map.
7. Desk skyline puzzle
Add a skyline view to an office with no windows with this wooden skyline puzzle. It's nice to toy with during long conference calls and much less passe than a Newton's Cradle.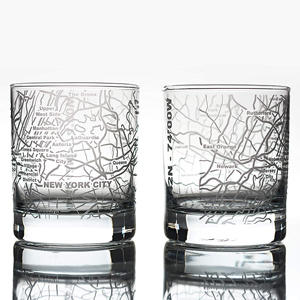 8. Classy tumblers & coasters
Toast the year gone by in these etched whiskey tumblers. The carved city map stands out when they're full, and you can pair them with these city map coasters.
9. The best coffee table book
Gift New York Splendor, by Wendy Moonan, to help someone get a glimpse inside the homes they love to lust after. It's got big, beautiful pictures of the most fascinating interiors in the city.
10. Moose-map sculpture
Finally, help a friend whose love for the great outdoors is superseded by a love for civilized spaces by adding this interesting piece of home decor to their collection. It's a moose made of maps. A map moose. And it's so fun.
11. Books, books, books!
Offering up a great real estate related read is another quality way to show your giftee "hey, I get you." Check out our roundup here.