REBNY, other biz groups tap Heastie's bestie for tax-break campaign
Patrick Jenkins and the Assembly speaker were college roommates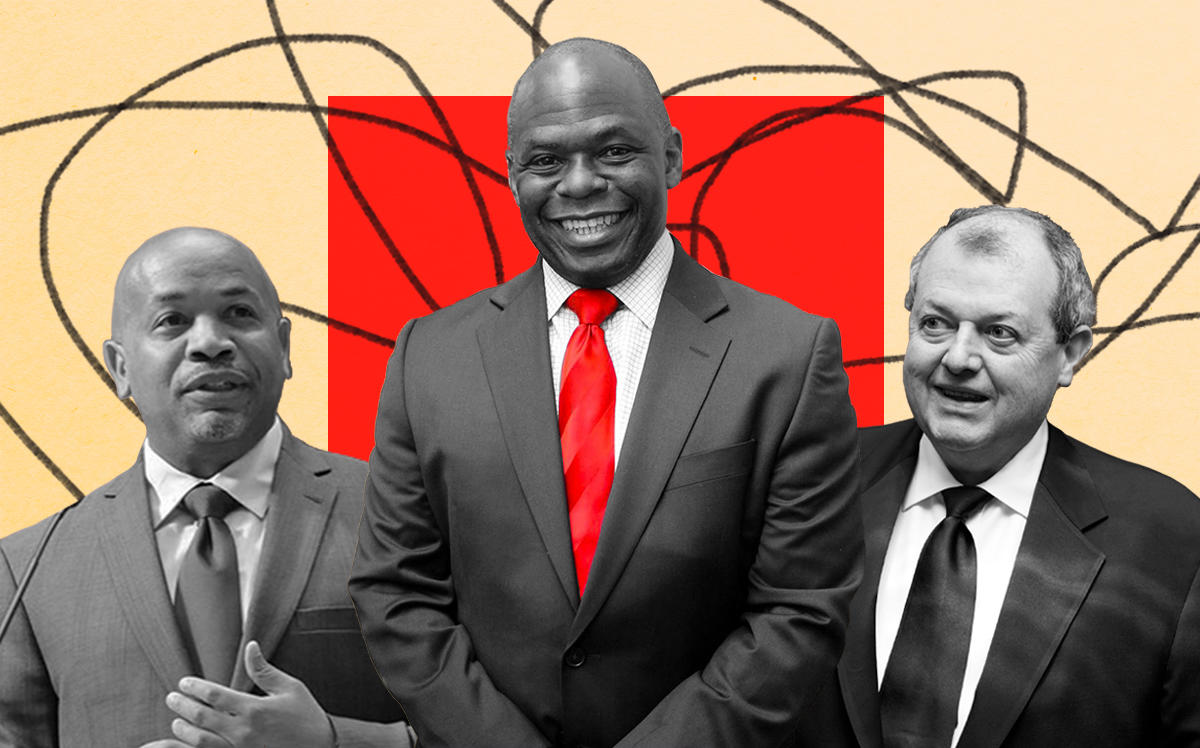 A coalition of business groups including the Real Estate Board of New York has hired a lobbyist with longstanding ties to Assembly Speaker Carl Heastie to get a key tax break extended.
Patrick Jenkins, whose eponymous firm expanded rapidly after Heastie took the helm of the lower chamber in 2015, is tasked with getting the Relocation and Employment Assistance Program renewed before it expires June 30.
Jenkins was Heastie's roommate at SUNY Stony Brook in the 1980s and continues to be paid by the speaker's political action committee for consulting services.
The effort, dubbed the Five Borough Jobs Campaign and financially supported by REBNY, local development corporations and others, seeks to continue a tax subsidy that helped lure Amazon to Long Island City. The retail giant's project, which was abandoned a year ago, triggered opposition that has led to calls by progressive politicians to change the subsidy program.
Known by its acronym REAP, the tax incentive aims to create outer-borough jobs. It would have been worth about $900 million to Amazon, according to a TRD analysis.
Jenkins was brought on last month to spearhead the campaign's lobbying effort. The campaign is supported by a coalition including numerous chambers of commerce and business improvement districts, as well as the New York Building Congress, which represents the construction industry, and the Association for a Better New York, a business advocacy group with close ties to REBNY.
Jenkins, whom the coalition will pay $15,000 a month from January through December for lobbying, has become a sought-after political broker for the real estate industry, in part because of his close relationship with Heastie. REBNY handled the paperwork for the hiring, and the coalition is registered at the trade group's Midtown address.
Jenkins was tapped by developer William Zeckendorf last year to nix a proposed pied-à-terre tax, and has had that contract extended through 2020 to ensure such legislation does not make a comeback.
The Durst Organization also engaged Jenkins from 2017 through April 2019 to lobby the Assembly, Senate and City Council for its Park Avenue development in Harlem, according to a spokesperson for Durst. Jenkins also lobbies for Malaysian casino developer Genting, which operates the Resorts World casino in Queens.
"REAP is an existential issue for many small and medium-sized businesses," Jenkins said in a statement. "We must incentivize job creation to benefit equity in every borough, not just in Midtown Manhattan. I am proud to represent the over 50-member 5 Boro Jobs Coalition to make sure that happens."
One politico said Jenkins' hiring made sense, noting that few people in the state have the kind of relationship with Heastie that the lobbyist does.
"If you're REBNY and need help with the speaker, who would you hire?" the person said. "You'd hire Patrick."
A spokeswoman for the coalition said its expenses are broadly shared by its members. REBNY declined to comment.
REAP came under fire last winter because it would have benefited Amazon, a trillion-dollar company run by the world's richest man, Jeff Bezos. But Randy Peers, CEO of the Brooklyn Chamber of Commerce, a member of the coalition behind the campaign, underscored the importance of REAP — and his belief that Jenkins is the person best positioned to ensure it continues.
"Yes, it's a development site that might benefit from an incentive, but it's a business that moves into that space, and a person, a Brooklynite benefits from that job," Peers said. "These are tools in the toolkit."
Jenkins' efforts on behalf of other groups have raised questions. A scholarship fund operated by the Black, Puerto Rican, Hispanic and Asian Legislative Caucus engaged him in 2017 to raise money for its scholarship fund, a position which he continues to hold, according to a source familiar with the matter. REBNY was one of the sponsors of the caucus' annual retreat last weekend in Albany.
Donations to that fund spiked after Jenkins was retained. It is now under investigation by the New York attorney general for its spending and scholarship awards.