sponsored by:
Blockchain-backed Technology Offers a Better, Faster Way to Close on Home Purchases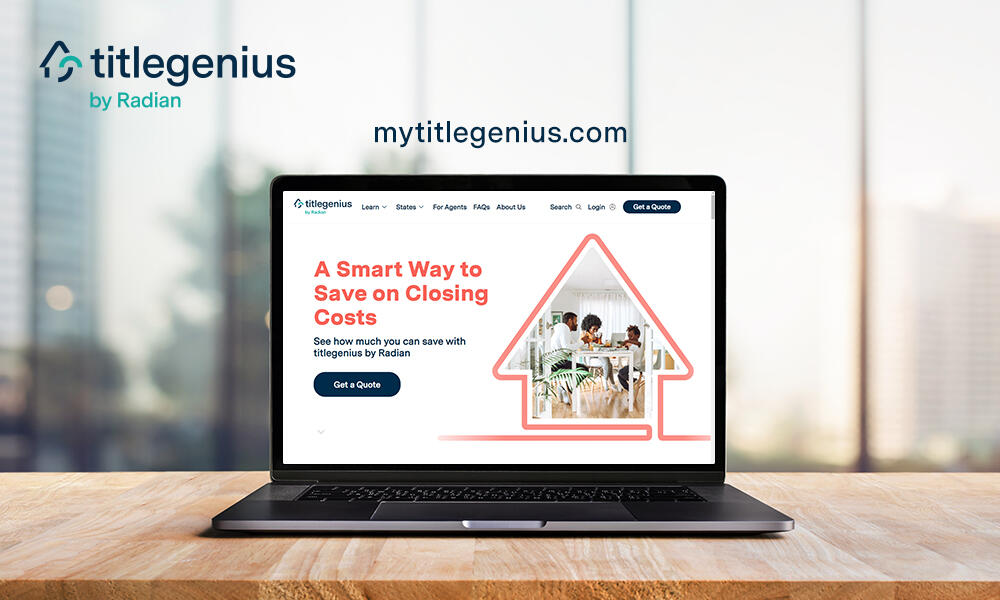 Low inventories of homes for sale and high demand combined with COVID-related shifts in consumer preferences and buying habits have upended the real estate market this year. Today, about a third of home purchases are made with cash offers, many are sight unseen, and the average time between listing and closing has tightened to just a matter of days. While these numbers are in part attributable to the activities of institutional investors, ordinary homebuyers are also changing their behaviors. More than half of all would-be buyers who searched for a home on the internet walked through the house entirely online. To help real estate agents navigate this fast-moving, increasingly virtual real estate landscape, Radian has introduced an easy-to-use digital platform that provides an unprecedented level of transparency into the title and settlement process.
Why Title Insurance?Title insurance protects against hidden risks that might impair your property rights. Before closing on the sale and financing of a property, the company conducting the closing will search the public records to uncover any liens, encumbrances, forgeries, and other claims of ownership that may cast doubt on the legitimacy of title to the property.Every property has a history. Sometimes this can include errors in public records, missing heirs, or boundary disputes that can threaten your financial investment. Title insurance offers protection against these and other covered title related issues.What is required to cure these defects is disclosed in the Commitment to Insure. The title company works with the parties to resolve, and after closing an owner's policy is issued. Owner's title insurance lasts as long as the policyholder – or their heirs – have an interest in the insured property. All for a one-time premium.Without title insurance, the only recourse in the event of a title defect is to sue the seller/grantor. Purchasing an owner's policy is the smart way to protect your property from financial claims.
titlegenius by Radian, through which homebuyers can purchase title insurance and title services through Radian's affiliated title insurer and title agency, Radian Title Insurance Inc. and Radian Settlement Services Inc. 1, uses an intuitive interface that makes sharing data and documents easy and frictionless. Real-time updates keep the real estate agent and client in sync throughout the transaction so there is less time chasing paperwork and signatures. The platform allows agents to track multiple transactions at once so they can focus their time and attention on their clients and on growing their businesses.
Among its agent-friendly features, titlegenius creates a roadmap to closing (including a closing checklist for clients), enables agents to download Earnest Money receipts, disburses commissions, and offers a hybrid business model that combines local expertise with the best of centralized operations.
The platform uses blockchain technology as the foundation of a robust security protocol so both personal information and funds are safe and only accessible to the agent and client. The same technology undergirds Radian's online portal for consumers, www.mytitlegenius.com, which enables homebuyers to shop directly for title and closing services, giving them flexibility and potentially saving them money. They can access tools on the site that accelerate the closing process such as remote check capture and online notarization, so homebuyers can act quickly and confidently when they find the property that suits them best.
titlegenius by Radian launched in Florida this summer and has recently expanded to Pennsylvania, Ohio, Arizona, California and Nevada. Notably, in Florida, title insurance premiums are set by the state and rebates and other discounts on premiums are generally prohibited. However, an allowed rebate in the State of Florida, known as the "Butler Rebate", is approved on every Florida transaction for every purchaser of title insurance using titlegenius in the amount of 20% of the premium, which is credited to the purchaser at the time of closing.
titlegenius is designed to give agents and homebuyers greater control over the closing process by creating a fully digital experience that removes uncertainty, fosters timely communication, and lightens the financial burden on borrowers. Because it's part of Radian, the platform has the backing of one of the largest providers of mortgage and real estate services. 
Radian and its subsidiaries plan to roll out a suite of digital products and services, including titlegenius, under its recently renamed real estate segment, homegenius. The tools are meant to improve the way real estate agents, lenders, mortgage and real estate investors, and consumers interact during the homebuying and selling process. The products and technologies the company expects to launch soon include:
geniusbuyer:

 A Qualified Agent Network that will identify, engage and leverage brokers across the country to provide home buyers and sellers the best real estate experience with the right real estate professional. Provided by Radian's homegenius of Florida LLC subsidiary.

geniusprice

:  An intelligent pricing engine, designed to lead the industry into the future with predictive modeling, artificial intelligence, and automation working together to deliver estimated property values with unparalleled accuracy in an instant. Provided by Radian's Red Bell Real Estate, LLC subsidiary.

geneuity:

 A sophisticated yet simple platform combining artificial learning and machine learning technologies, data and modeling, with the tools agents need to do their jobs, into a single, powerful workflow system that is intended to deliver on the promise to make them "the smartest agent in the room." Provided by Radian's Red Bell Real Estate, LLC subsidiary.
homegenius promises to deliver an overdue jolt of innovation for the real estate marketplace by using data, analytics and artificial intelligence as well as blockchain for security to transform lead generation, property intelligence, title services and other key processes. The timing is auspicious. With all the changes reshaping the real estate landscape, professionals and consumers have never needed effective navigation tools more than they do now. 
titlegenius is just the first step.
——–
1Title insurance and title services are offered through Radian's affiliated title underwriter, Radian Title Insurance Inc. and its affiliated title agency, Radian Settlement Services Inc.  Title insurance coverage is subject to terms and conditions which are set forth in the applicable insurance policy. Availability of coverage, terms, costs and savings may not be available in all states. For more information, please see www.mytitlegenius.com.
© 2021 Radian Group Inc. All Rights Reserved.  550 East Swedesford Road, Suite 350, Wayne, PA 19087.  This communication is provided for use by real estate or mortgage professionals only and is not intended for distribution to consumers or other third parties.  This does not constitute an advertisement as defined by Section 1026.2(a)(2) of Regulation Z.