The real estate industry has plowed millions into the mayoral race. Which of the candidates is the favorite?
Majority of developers, brokers and trade unions are betting on different candidates, a Real Deal analysis of donations shows
Developers are ready for a third Daley to lead Chicago. Building trade unions are all in for Susana Mendoza. Brokers tilt toward Gery Chico. And Toni Preckwinkle is getting by without much help from any of them.
In all, the real estate industry has lavished more than $13 million in campaign contributions on five of Chicago's leading mayoral candidates, according to an analysis by The Real Deal.
With less than two weeks before the Feb. 26 election, real estate interests have been throwing their money in all directions, hoping to back a winner.
But clear favorites have emerged.
Industry executives have largely huddled around Chico and Bill Daley, whose long private-sector backgrounds are evidenced in their business-focused platforms. And developers in particular have "a level of comfort" with Daley, according to Paul Colgan, a lobbyist with the Home Builders Association of Greater Chicago.
"He's been trying to get out the message of change, but he still has a long history with a lot of people in Chicago who long for the days of Daley," Colgan said, referring to the family political dynasty. "He's been very involved in the financing and real estate communities for a very long time, which makes them think he's someone they can work with."
TRD's analysis of campaign contributions only include donations of $5,000 or more that were recorded through Feb. 12.
Bill Daley
The son and brother of Chicago mayors who ran the city for a combined 43 years, Bill Daley leads the pack in large contributions from industry leaders, and big-name donors.
The former investment banker and U.S. Commerce Secretary under President Clinton has raked in more than $652,000 from people or groups inside the real estate industry, including about $577,500 from developers, property owners and real estate investors.
Leading contributors include Michigan Avenue Real Estate Group owner Thomas Meador, who donated $200,000 to the campaign, and Sam Zell, Equity Commonwealth chairman, who kicked in $125,000.
Daley also scooped up donations of $25,000 each from JMB Realty founder Judd Malkin and his son Barry Malkin, who heads his own real estate investment firm. He also secured a $25,000 donation from Cubs owner Tom Ricketts.
Still, the copious donations from real estate interests only represent about 12 percent of the nearly $5.5 million in large donations Daley took in between his campaign kickoff five months ago and Tuesday. The biggest donor to his campaign: billionaire hedge fund manager Ken Griffin, who this week contributed $1 million to the campaign. While not in the real estate industry, Griffin's record-shattering home purchases in Chicago, New York and London make him one of the biggest individual real estate investors in the country.
Susana Mendoza
At $817,500, state Comptroller Susana Mendoza has received more donations from real estate-related groups than any other candidate in the race.
Most of that has come from trade union groups like the LiUNA Chicago Laborers' District Council and the Laborers' Political League, which have contributed $250,000 each.
She scored another $100,000 from the Chicago Regional Council of Carpenters, $60,000 from the International Brotherhood of Electrical Workers and $50,000 from the Finishing Trades of Chicago.
The $745,000 donated by those building trades represents about 40 percent of the total contributions of $5,000 or more Mendoza pulled in since her campaign got underway.
Mendoza traces her tight relationship with builder groups back to her tenure as a state representative between 2001 and 2011, when she represented a working-class swathe of the city's Southwest Side. During that time Mendoza chaired the House International Trade and Commerce Committee, sat on its labor and public utility committees and was closely involved in negotiations over a budget bill in 2008.
Mendoza "has a long history of working with building trade unions, and she's showed support for some of the initiatives they wanted," Colgan said.
Among development firms, Lakeshore East builder Magellan Development Group has proven Mendoza's biggest supporter, with various company executives pooling $40,000 in combined donations to her campaign. — Co-CEO Joel Carlins is an exception. He donated $10,000 to Daley.
Mendoza also received a $15,000 donation from Mae Whiteside of CLK Engineers, $10,00 from Vanir Construction Management and $5,000 from Golub & Company CEO Michael Newman.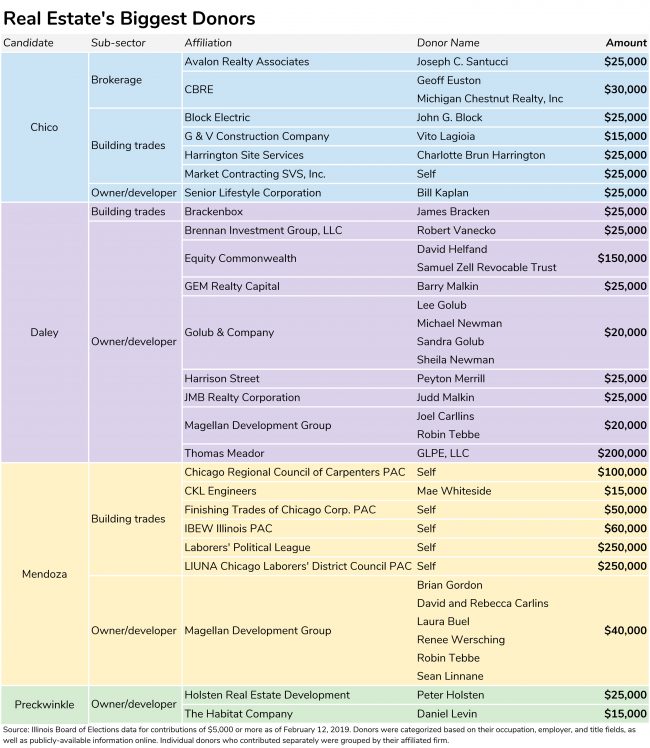 Gery Chico
Gery Chico received the second-most from building trade groups, with $221,000 from smaller firms like Block Electric and Active Roofing Company. He also received big donations from multiple Chicago-based architects, including $5,000 each from Alakioutou Roula of Roula Associates, Primera co-founder Michael DeSantiago and Trump Tower designer Adrian Smith.
He pulled about $95,000 from commercial property owners and developers, including $25,000 from Senior Lifestyle chairman Bill Kaplan.
Chico, a longtime real estate attorney and chief of staff to former Mayor Richard M. Daley, also received a combined $60,000 in large donations from real estate brokers, more than Daley or Mendoza. Half that sum can be traced to Los Angeles-based real estate services giant CBRE.
"Chico has such a long history working in every part of the real estate market as an attorney, from zoning to development, and working with all these different brokers," Colgan said. "It doesn't surprise me that he has a mix of money from all these different groups."
In total, about $340,000 of the $1.7 million in large donations Chico raised came from the real estate industry.
Toni Preckwinkle
Toni Preckwinkle has had little trouble raising campaign money, though little of it is from the real estate industry.
At just 3 percent of her $3.5 million total, donations from real estate groups account for a far smaller share of Preckwinkle's contributions than those of Chico, Daley, Mendoza or even Paul Vallas. Her support for rent control measures could be one reason.
Instead, the bulk of Preckwinkle's campaign cash came from union sources outside the real estate industry. Those donations included the Service Employees International Union, which represents both public and private sector workers; and the Chicago Teachers Union.
The Cook County Board of Commissioners president staked a different position from most other candidates when she openly supported the growing movement to overturn the state's ban on rent control, a measure real estate interests strongly oppose. The position fits into her "long history of supporting mandates on the real estate industry, instead of working with real estate to create incentives," Colgan said, and has pushed most of the industry away from her campaign.
Preckwinkle avoided the topics of rent control and affordability requirements during a forum hosted by the Chicago Association of Realtors last month. Instead, she promised to expedite building permit approvals.
Preckwinkle still has supporters among the city's builders. Apartment developer Peter Holsten donated $25,000 to her campaign, and Daniel Levin, founder of affordable housing firm The Habitat Company, sent $15,000 her way.
Paul Vallas
Former Chicago Public Schools chief Paul Vallas raised a fraction of the totals the other top four mayoral candidates pulled in. His campaign has received about $745,000 in total large donations since he began running last year. But Vallas got a big boost in July when he received $200,000 from business magnate and Chicago Blackhawks owner Rocky Wirtz, whose Wirtz Realty owns more than 20 apartment buildings around the city and suburbs.
Vallas also received donations of $10,000 each from First National Development, Charlotte Brun Harrington of Harrington Site Services Company and Joe Carolan of Active Roofing Company.