Myra Nourmand on selling the Charlton Heston estate and celebrity sellers who go AWOL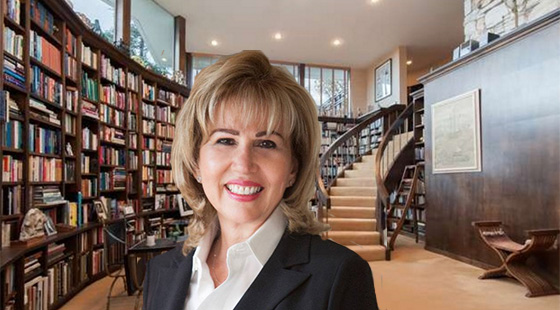 With clients like Sheryl Crow, Myra Nourmand has made a name for herself and her company Nourmand & Associates in Beverly Hills, where she is an agent and principal. Celebrity clients aren't the exception, they are the rule. The vast majority of Nourmand's clients are in the entertainment industry.
In January, Nourmand added another famous property to her list of solds: the $12.2 million Charlton Heston Estate on Coldwater Canyon Drive in Beverly Hills. Nourmand's current listings include Spencer Tracey's former home, an 11,700-square-foot Mediterranean-style home on North Roxbury Drive in Beverly Hills asking $19.5 million and a 9,250-square-foot cul-de-sac home on 1.3 acre in Bel Air asking $15.9 million. She told The Real Deal she also has $100 million in pocket listings.
We sat down with Nourmand to chat about her clients and what gets on her nerves.
DOB: April 10, 1947
Hometown: Buffalo, New York
Family: Married, 3 children, 4 grandchildren
You recently sold the Charlton Heston estate. What was that like?
It was such a pleasure. There was memorabilia in the house that was quite dynamic and memorable from (filmmaker) Cecil B. DeMille and from doing The Ten Commandants and Ben-Hur and all of the important movies that (Heston) did. That was fun. It sold very quickly.
What was the house like?
The main house wasn't that big. It was about 5,500 square feet. However, there were multiple buildings on the property. Every room had a view. It needed everything. It was a project for the new buyer to take it to the next level.
Who was the buyer?
Somebody in the entertainment business from Europe. He heard that it was coming on the market and contacted us right away with his broker and literally said, "I am buying this house."
What's next for you?
I have a few properties that I cannot put in the MLS because of who (the owners) are. One is $60 million. It is on six-and-a-half acres in Beverly Hills, and it's like buying a park, that is how gorgeous the land is. The other is $15 million. It's in an area of Los Feliz called the Oaks, and it is quite gorgeous.
When did you move to California?
I was born in Germany, moved to New Jersey, then to New York, then to Spring Valley, then to Buffalo. I went to the University of Buffalo, where I met my husband. After we got married, he said to me, "Myra, read my lips. We are not living in Buffalo." We ended up getting in the car and going to California. And that is where we have been ever since, since 1970.
What's your favorite area of Los Angeles?
I love Beverly Hills. It's iconic. It has worldwide recognition, but it is a community and it's a very small area. You can walk to restaurants and have a swimming pool and tennis court within a mile of commercial property. I love Bel Air. I love Brentwood. I love Holmby Hills, too. The properties have a lot of land, and a lot of the homes were built in the '30s, when there was a lot of integrity, before they started ripping everything down and building these brand-new homes. I like the substance and texture of homes that have a history.
Where do you live?
I have lived in Beverly Hills, north of Sunset, just behind the Beverly Hills Hotel for over 35 years. I obviously like my house and where it's situated.
Which way is the L.A. real estate market going right now?
It is leveling off. A starter home is $3 million in Beverly Hills. Is it going to be $4 million next year? No. Was it $2 million and then $3 million in the last two years? Yes. I don't see that it is going to keep going up like that.
What's your biggest pet peeve about selling real estate?
When I have a listing and I can't get a hold of the seller to say I have a showing. They hire me to do a job, and then I can't get in to do it. Also, when sellers believe that they know the value of the home better than you. Sometimes I tell clients, "You need to get an appraiser out here." Because we all live in a fishbowl. We all have a computer. We know what this house sold for, what the square footage was. We know the location. We have Google Maps. Everybody thinks their baby is the most beautiful, most gorgeous and most expensive, but in reality it may not be.