Ryan Serhant unscripted
The reality TV star and powerbroker has hit a new career high — but how real is his success?
In the span of 72 hours in early May, reality-TV star and top New York City residential broker Ryan Serhant put two units under contract at 100 Avenue A in the East Village, attended a fund-raiser for cancer research at Cipriani Wall Street and traveled to the Kentucky Derby with his camera-ready fiancée, Emilia Bechrakis, whom he's marrying next month. Oh, right, he also listed an $11.5 million townhouse on the Upper West Side.
Each of those moves was eagerly gobbled up by his 443,000 Instagram followers, who track his every move with alarming focus.
In today's real estate world, where the lines between media and business are blurred, it's nearly impossible to separate the ascent of the 31-year-old's real estate and TV careers, which have reached new heights in recent months as Bravo began airing the fifth season of "Million Dollar Listing: New York," which he co-stars in.
Serhant and his team at Nest Seekers International say that they closed more than $500 million in deals nationwide (on both the buy and sell sides) in 2015, up from $375 million a year earlier.
The Serhant Team — which now includes 40 agents, up from 20 last year — is working on 40 new development projects in New York and Los Angeles.
But Serhant is not without his critics, including those who say his listing volume is inflated by his massive team and his co-listings with other agents. Others bemoan the fact that his role on TV fast-tracked his career, giving him the kind of name recognition and client base that typically takes brokers years to amass.
Meanwhile, like other brokers, Serhant is preparing for a softening luxury market, which could have a significant impact on his business.
But he is used to racing the clock: Known to hit the gym before dawn, he rarely takes a day off and has a personal motto to "expand always, in all ways."
"I'd rather grow as quickly as possible and pass everybody than take my time, because I could get hit by a bus tomorrow," he said during a recent interview at 75 Warren, a $19 million townhouse listing in Tribeca. "When you have the opportunity, you have to harness it. Like, why do anything slow?"
Made-for-TV success
Serhant launched his real estate career on Sept. 15, 2008, the day Lehman Bros. collapsed, a fact he's shared often.
After starting at the bottom of the rental heap, last year he landed the No. 12 spot on The Real Deal's annual top Manhattan agents ranking, with $246 million in listings, and took the No. 1 spot in New York on the Wall Street Journal/Real Trends ranking, with $375 million in closed sales.
Getting there did not happen without bold action: Over the course of his less-than-eight-year career, Serhant has flown to London to personally deliver a buyer's contract and walked Asian clients through Manhattan apartments at 3 a.m., when they were too jet-lagged to sleep.
Unlike most rank-and-file agents in the city, Serhant has a command center — a 3,000-square-foot office in Soho. In the past 18 months, he's expanded to the Hamptons and Los Angeles, where he's marketing 40 apartments at 201 Ocean, the tallest residential complex in Santa Monica. Chicago and Dallas are next on his list, he said.
In New York, Serhant has also muscled his way into the übercompetitive world of new development — a lucrative way to scale up brokerage business.
"You can have one listing and it will be 60 apartments, versus 60 resales with different sellers," said Serhant, whose projects include Michael Paul Enterprises' the Justin, a six-unit condo at 225 East 81st Street, and the Amirian Group's planned East + West, located at 436 and 442 East 13th Street.
Serhant said he pursued Magnum Real Estate's Ben Shaoul for years before being tapped to market the 32-unit 100 Avenue A, where prices range from $1.3 million to $3.5 million.
Shaoul said he hired Serhant because of his machine-like work ethic and the way he markets real estate via social media, TV and other channels. "Ryan is able to drive traffic to our projects through his different portals," Shaoul said.
And, although selling condos is the ultimate job of any new development broker, Serhant says he embraces the creative process. "I like coming up with names and ideas … not just turning on lights every day," he said. "And I like taking risks, clearly."
Early episodes
To celebrate the launch of the fifth season of "MDLNY," Serhant — whose net worth has been reported to be as high as $20 million by several celebrity blogs — threw a party in mid-April at the East Village concert venue Webster Hall, where a few hundred clients and friends mingled with models wearing nothing but body paint, and acrobats clad in sequined bodysuits performed on overhead trapezes. (He told TRD he spent $75,000 on the bash.)
A short time later, "Nightline" aired a six-minute segment on Serhant that suggested his "go big or go home" personality "propelled him to the top of both real estate and reality TV."
And in May, Serhant landed a solo show on Bravo, "Employee of the Month," in which he'll be dispensing advice to sales reps throughout the metro area.
That pinnacle comes with certain perks. In 2014, he and Bechrakis purchased a penthouse at the Renwick Modern, in Soho, for $3.7 million. And in February, the couple traveled to Abu Dhabi for the weekend on Etihad Airways and got their own First Class "apartment" — an in-flight amenity that goes for $16,750 one way.
But real estate wasn't always the goal for Serhant; it was more like a last resort.
Growing up north of Boston, Serhant's father was an executive at State Street Global Advisors who had high expectations for his three sons. Ryan, the middle child, earned $8 an hour working construction during his summer breaks from Hamilton College and moved to New York after graduation in 2006 to pursue an acting career.
When his character [biochemist Evan Walsh IV] was killed off from "As the World Turns," Serhant worked briefly as a hand model to make ends meet.
In 2008, he followed a college buddy, Jason Paulino, to Nest Seekers, a small firm, figuring he would earn more by renting $2,000-a-month apartments. (Paulino is now a leasing consultant at the Related Companies, according to LinkedIn.)
A year later, Nest Seekers CEO Eddie Shapiro assigned Serhant to the sales team at 99 John Deco Lofts, a 442-unit rental-to-condo conversion by TF Cornerstone. (Serhant said he landed the gig, in part, because he was living in the Financial District at the time.) The building was a tough sell, since no banks were issuing residential mortgages and it was competing with amenity-laden new construction like 20 Pine and 15 Broad Street.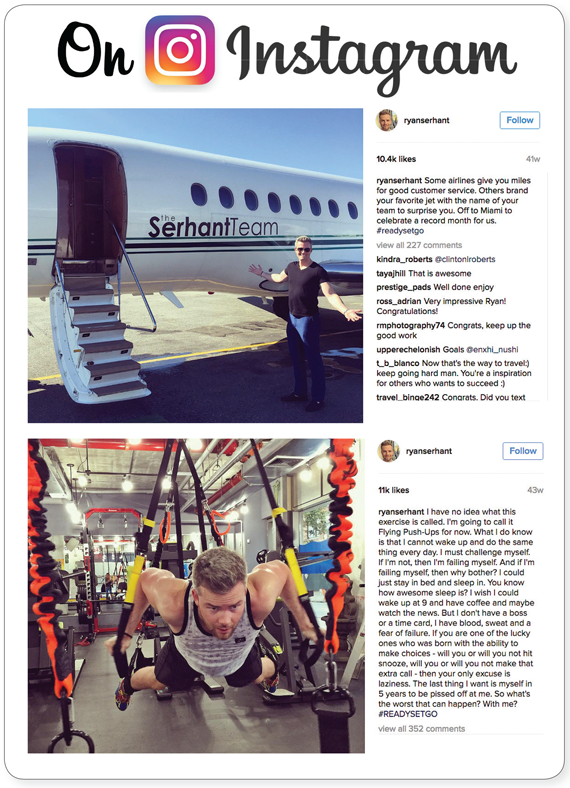 TF Cornerstone's Sofia Estevez, who worked on 99 John, recalled Serhant as "quite a dapper dresser" and the consummate professional, even before the camera crews showed up, though exposure on national TV gave the project a boost. "Any press is good press when you're trying to sell condos in a bad economy," she said.
Serhant — who said that 99 John taught him how to be a broker — recalled that first season on "MDLNY" as particularly brutal, and said the pressure of racking up and selling listings with a national audience watching caused him to lose 20 pounds and go gray in the span of months.
"All of a sudden, it wasn't just my own bank account against me. It was NBC Universal with a shotgun to my head, saying, 'If you do not succeed, we will fire you,'" said Serhant. "The last thing I wanted to do was go on a reality show and fail."
Shapiro — who sent Serhant and several others to Bravo's original "MDLNY" casting call — did his fair share of heavy lifting in the beginning. "I was kind of like his quarterback," said Shapiro, who fed Serhant listings. But Shapiro credits Serhant with capitalizing on the opportunity. "The guy works 95 to 100 hours a week. He lives and breathes the business."
These days, Serhant is one of a select group of top NYC brokers who carries a heavy load for his firm. As of September, he held 57 percent of all of Nest Seekers' listings by dollar volume — a higher percentage than any other broker in the city, a recent analysis by TRD found.
Still, some of Serhant's real estate critics say that the main reason his listing volume has spiked so significantly is because, at 40 agents, his team is far bigger than any of his rivals' teams.
By way of comparison, Douglas Elliman — brokerage to Serhant's "MDLNY" co-star and on- and off-camera nemesis Fredrik Eklund — limits teams to 10 agents.
Last year, when Serhant's team landed at the top of the WSJ/Real Trends list, Eklund and partner John Gomes railed against the ranking, which they argued was based on self-reported numbers. The Eklund-Gomes team took the No. 1 spot on TRD's ranking, which is independently collected.
Neither Eklund nor Gomes responded to a request for comment for this article, but sources say nearly everything on the show (including their rivalry) is dramatized.
Indeed, in an episode of "MDLNY" that aired in May, Eklund and co-star Luis Ortiz accused Serhant of committing the cardinal sin of social media: Purchasing followers on Instagram. (Eklund called Serhant's feed too "nauseating" and "infuriating" to follow.)
For his part, Serhant categorically denied buying "likes" and, in a blog post published on BravoTV.com, chalked the allegations up to "petty lying."
Talking to "Nightline" in May, TV personality Andy Cohen, a friend and collaborator who has his own Bravo talk show, described disliking Serhant as something of a reality TV sport.
"If you don't like him, you love not liking him," said Cohen, who added that Serhant's "magnetic charisma" was evident from Day 1 on "MDLNY."
Despite their on-air friction, Ortiz applauded Serhant's self-discipline, professionalism and follow-up.
"I think he has delivered for everything he's promised," Ortiz said.
And yes, "MDLNY" is meant to entertain, he said. "We signed up for this, and we don't take anything personally," he said. "We're not here for them to create rainbows around us. They're going to show that real estate is not always pretty."
So far, however, Serhant has avoided any ugliness at Nest Seekers.
On a given day, one-third of Serhant's listings are shared with another Nest Seekers agent, said Shapiro, who noted that colleagues seek him, even if it means sharing the commission and limelight.
Still, Serhant's outsized personality and brand beg the question of whether other agents feel like they are operating in his shadow.
In May, former protégé Katherine Salyi left Nest Seekers and joined Prime Manhattan Residential. She told TRD she has a "great" relationship with Serhant and that he supported her decision. But at the end of the day, she felt Prime Manhattan was a better place to grow her business, she said.
Serhant told TRD he is not considering leaving to strike out on his own, explaining that one of the many reasons he stays is because Nest Seekers provides him with both administrative support and the freedom to chart his own course. (Serhant declined to discuss his commission arrangement, but top agents at most NYC firms typically get hefty splits).
And Shapiro said the relationship is symbiotic. "We take care of him, and he takes care of us," said the brokerage chief, who dismissed the notion of being overshadowed by Serhant's fame. "Does Cleveland have a problem because LeBron is on the team?" he asked.
Surviving a slump?
While the softening of the luxury market will undoubtedly impact all brokers at the top of the market, Serhant may actually be well positioned if the market heads south.
For starters, he came up in the brokerage business as the market was digging itself out of a recession. His first sales in 2009 were in Long Island City, where he negotiated transfer taxes and closing costs on behalf of buyers. At 99 John, he learned the parlance of Fannie Mae, Freddie Mac and FHA financing. "My friends who got me into the business were like, 'What? You just show apartments and people buy them, dude. It's New York,'" Serhant recalled. "So the business I learned in was very tough, which is what I know."
And Serhant is gearing up for a possible market shift.
A year ago, he began selling Brooklyn townhouses and zeroing in on sub-$2 million inventory. Today, he has 10 team members focused exclusively on Brooklyn, and he's set to open an office in Bedford-Stuyvesant. "Do you know how hard it is to sell a $10 million two-bedroom on the park, and how easy it is to sell a $1 million house in Bushwick?" Serhant said.
Yet for all his success, he hasn't shaken off the fear of a young 20-something looking to make his rent — a vestige from his upbringing combined with a phobia that he won't live up to his potential. ("It's a disability for me, because, honestly, it will cave me and depress me if I don't think I've done enough," he said.)
And while reality TV has boosted his credibility, the opposite is also true. "There's definitely people out there who don't call me, probably because they did see the show and don't like me," he said. "But there are 7 billion people in the world and a lot of them like real estate."