Manhattan's top listing agents
Manhattan's top listings agents grapple with whether to take on overpriced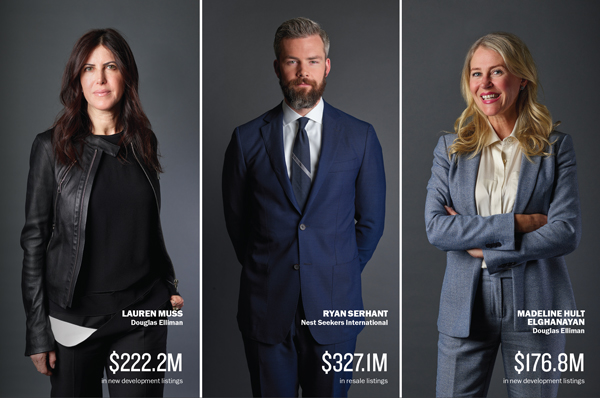 New York's top residential agents have catapulted their careers in recent years by jockeying for hot new-development assignments and winning big listings. But over the past 12 months, even the city's most elite brokers have settled into a new reality — one in which it can be a professional liability to take on an overpriced listing.
This month, in addition to ranking agents by the dollar amount of the deals they closed, The Real Deal also crunched the numbers on their total dollar volume of listings.
What we found was that as a group, the top 20 agents were marketing a total of $6.7 billion worth of properties as of April 30, the one-day snapshot when we culled listings from On-Line Residential. That's essentially flat compared with the $6.6 billion worth of properties marketed by the top 20 agents last year.
This year's listings were evenly split between new development properties ($3.4 billion) and resales ($3.3 billion), despite the fact that developers have loaded thousands of new units onto the market during this most recent condo boom. That suggests the rapid pace of development, resulting in a glut of high-end product, may be settling into a less frenetic pace.
To find out which agents were dominating in both the new development and resale spaces, we created two rankings — one looking at each sector, just as we did for closed sales.
Related: The top brokers are joining forces — and sharing paychecks
—  at NYC's biggest new developments
In the new development world, agents say there's increased pressure to drop listing prices as buyers — who now have a buffet of choices — push back.
"A few months [into 2016], it was pretty much obvious to most buyers that things were changing, and that zapped the urgency out of things," said Douglas Elliman's Raphael De Niro, who had $382.8 million in total listings. (De Niro clocked in at No. 10 in TRD's ranking of agents with the highest dollar volume of new development listings, but he took the No. 1 spot in the same category for closed deals, making him the rare broker who closed more in 2016 than he had listed in late April).
Some brokers TRD spoke to insisted that they will not take on overpriced listings.
Brown Harris Stevens' Lisa Lippman said brokers need to work harder and smarter to get deals done in a market where buyers and sellers don't agree.
"When people are suspect about the market, they're going to be less trusting on the deals that are being made," she said. "There's no room for error."
Who's listing most?
Agents selling new development projects ruled in this year's ranking, and 432 Park headlined the show.
Elliman's Shari Scharfer Rollins, Sabrina Saltiel, Richard Steinberg and J. Roger Erickson — the on-site sales team for Macklowe Properties and CIM Group at the trophy tower — took the top four spots on the new development ranking, according to TRD's analysis. The foursome shares many of their listings. And 20 percent of the units at the tower are still unsold, including a 95th-floor penthouse asking $82 million.
In addition to 432 Park, Steinberg is marketing the 39-unit Chamberlain at 269 West 87th Street and has $102.7 million worth of resale listings, including a $25 million loft at a historic East Village building dubbed Beethoven Hall that was used as a set for Jackie Gleason's "The Honeymooners" and Robert De Niro's "Raging Bull."
Elliman's Fredrik Eklund and John Gomes clocked in at No. 5 on the new development list with $277.6 million in listings at buildings like Fortis Property Group's 1 Seaport, a 98-unit tower at 161 Maiden Lane in the Financial District.
They were followed by Compass President Leonard Steinberg with $253 million in new-development listings — a chunk of them at Ben Shaoul's 196 Orchard on the Lower East Side and the Foster + Partners-designed 100 East 53rd Street. Elliman's Lauren Muss came in at No. 7 with $222.2 million in listings at properties including Ian Schrager's 160 Leroy — which has a penthouse asking $48.5 million.
On the resale side, familiar faces filled the top of the ranking.
Leading the way was Serena Boardman of Sotheby's International Realty with $495.3 million in listings, including a third-floor co-op at 4 East 66th Street asking $65 million. Boardman — who also took the top spot in TRD's ranking of closed resales — has the co-exclusive for a duplex at 795 Fifth, asking $70 million, that's been on the market since June 2015. Brown Harris Stevens' Paula Del Nunzio and John Burger rounded out the top three for resale listings with $336.9 million and $332.4 million worth of properties, respectively.
Del Nunzio had nine townhouse listings priced above $14 million.
Burger, meanwhile, is marketing a massive co-op at 834 Fifth that belonged to the late "King of Wall Street," John Gutfreund, a former CEO of Salomon Brothers. The 20-room apartment hit the market last April asking $120 million before the price was cut to $96 million.
Taking the No. 4 and 5 spots were Nest Seekers International's Ryan Serhant — a co-star of "Million Dollar Listing New York" — and the Corcoran Group's Carrie Chiang and Janet Wang. Serhant's 60-person team had a massive 125 listings, including 60 resales, 43 of which were surprisingly priced below $6 million.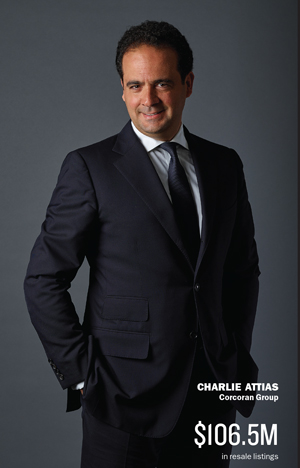 Elliman's Darren Sukenik, who had $165.6 million in new development listings, said that while every listing is a big get, landing one often helps win others. "That person can be your brand ambassador and send you three or four more deals," he said. "It can go in 100 different directions."
Bridging the buyer-seller gap
Taken together, TRD's two rankings show that some agents have a lopsided book of business — with far more in listings than actual sales.
That was even true for the agents closing more deals than many of their peers.
Elliman's Steinberg, for example, had $479.4 million worth of total listings as of April 30 while he closed roughly $150 million in sales, according to TRD's analysis. 
And Boardman, who sold $205.3 million, had more than double that in listings.
Compass' Steinberg — who had $452.7 million in total listings compared to $403.7 million in total sales — said the "time span between people looking and committing has stretched dramatically."
"The consumer is very educated," he said. "Their wish list is extreme."
Several agents — including Elliman's Erickson, BHS's Del Nunzio and independent agent Dolly Lenz — collected enough listings to make the top 20 in this ranking even though they didn't make the cutoff for TRD's sold rankings.
Del Nunzio pointed out that buyers have more control over whether transactions are getting done than they've had in the past.
"The arbiter of value is the buyer," said the BHS broker, who listed 50 East 69th Street in September, asking $72 million. "The market will determine its value, and we'll see how that goes."
Del Nunzio did not respond to a request for comment about her closed sales, while Lenz, who's disputed TRD's methodology in the past, declined to comment.
Others noted that agents are closing far more than what appears in TRD's ranking because they are also handling buy-side deals.
Adam Modlin — who runs an eponymous firm — claimed that 2016 was the best year of his career thanks to an increase in working with buyers.
He said on the high end, sellers (and agents) need to be patient.
"You could easily experience being on the market in excess of a year to find just the right match," he said.
He knows from experience. In April, he closed the $45 million sale of Demi Moore's penthouse at the San Remo on the Upper West Side. The listing took two years — and a price chop from $75 million — to sell. (It was not included in his tally because it went into contract before April 30).
Even at lower price points, price-sensitive buyers aren't rushing to make final decisions.
CORE's Emily Beare — who did not make TRD's listings ranking but did land a spot on the closed resale chart — described a full-floor unit at 100 11th Avenue, designed by Jean Nouvel, that hit the market last summer asking $9.8 million. "We were completely in line with the comps in the building, but it took much longer to sell. Usually it doesn't take over six months," she said.
After $800,000 was shaved off the price, the unit went into contract in late April. Beare said anything below $5 million that's priced appropriately will sell for close to — or over — the asking price.
"People have been talking about the correction for a year, but there's still something in the air," she said.
When the price is right
While pricing is key to any deal, agents said there's little room for error today.
"Finance guys don't want to feel like they're buying at the top. The days of pricing 19 months ahead of yourself are over," said one agent.
Rather than looking at comparable closed sales to price units, agents are looking at properties that recently went into contract to get fresher comps.
"[Sellers] are less confident that our market is going to continue to climb as it has, and they're taking their time," said Cathy Taub of Sotheby's International Realty, who had nearly $100 million in total listings.
Corcoran's Deborah Grubman — whose team had $240.4 million in listings — said the challenge is convincing sellers to price right.
"Just like you think your children are the best, the brightest and the most intelligent, everyone feels the same way about their apartment," said Grubman.  "There's an emotional connection with residential real estate. When you're emotional, it's hard to do accurate pricing."
Sotheby's Nikki Field — whose team had $249.5 million in total listings — said buyers have the upper hand right now. "The data has told everyone there's been a market correction, and it's an opportunity for buyers. If you can prove it's a value purchase, you have a deal."