What they're reading now
Real estate pros share picks for historical fiction, </br>books about Revolutionary War bonds</br> and developer autobiographies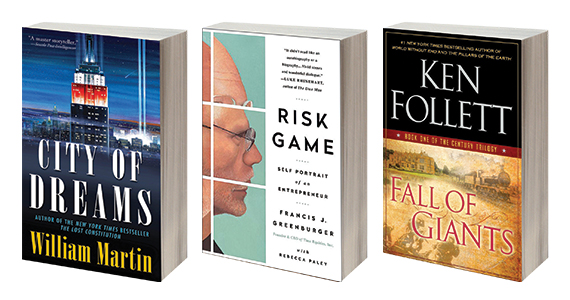 Stuart Siegelhttps://therealdeal.com/new-research/topics/people/stuart-siegel/
President & CEO, Engel & Völkers New York City
What are you reading right now or what did you finish most recently? "City of Dreams" by William Martin. It's a crime/historical novel about scripophily — the study of Revolutionary War bonds and money — and people who collect them. These are the bonds issued during the Revolutionary War by Alexander Hamilton, when the United States was looking to finance its Treasury. The book alternates between modern New York and Revolutionary time. A [modern era] couple are trying to find a cache of these bonds, or government "new emission money," hidden somewhere in New York. The book goes over the history of national debt, and asks what are the government's obligations and do those obligations ever fade or dilute over time. When I worked at Sotheby's, scripophily was a collecting category.
Has anything you read in it stuck with you? Would you recommend it to others? Unequivocally. I was hooked. It's fun reading, especially if you're a student of New York City history and architecture. It shows how Wall Street and capital markets are tied to the city, both physically and industry-wise.
Lauren Danziger
Executive director, Meatpacking BID
What are you reading right now or what did you finish most recently? I just got back from vacation, and while I traveled, I read "The Fall of Giants" and "Winter of the World," both by Ken Follett.
What spurred you to read those books? Whenever I need a new book, I post on Facebook. It's an amazing way to get good recommendations.  I tag my college friends and former colleagues that I've connected with in the past about book choices. If I end up reading a suggested book, it gives me an easy reason to call that person or shoot them a text. In this way, it makes the act of reading less solitary. I was encouraged to read this series by a friend who knows I am obsessed with historical fiction.
Has anything you read in it stuck with you? These books tell the story of four families: one American, one Welsh, one British and one German, all intertwined, and follows them through the course of history — first through the Great War and then through WW II.  To read these books while traveling in Berlin was incredibly interesting. The story gave context to the urban landscape and to the culture.  The weight of the city's history was something that I felt in a meaningful way.
Joshua Stein
Owner, Joshua Stein PLLC
What are you reading right now or what did you finish most recently? "Risk Game," which is Francis Greenburger's autobiography.
What spurred you to read that book? I've done some work for Francis and Time Equities over the years. He's interesting, as well as a very ethical and smart guy who isn't just in it for the money. He actually lives in two business worlds, not just real estate. The second business world he lives in is a very well regarded literary agency.
Has anything you read in it stuck with you? You start by seeing opportunities, ideally those no one else sees. That was Francis's way of life starting in the seventies. So the obvious question is: Where are those missed opportunities today? I was also struck by how Francis has lived through ups and downs, both in the market and in his personal life. Each time, he ended up stronger as a result. As a real estate attorney, I appreciated his emphasis on doing the right thing in making and closing deals and in working with his employees and counterparties, including banks. Reputation is everything.
Would you recommend it to others? Yes. It's a great portrait of an interesting life and very well written. It's also a good history of some important parts of the New York commercial real estate world over the last few decades.