Wynwood R&B Realty's mixed-use office project scores approval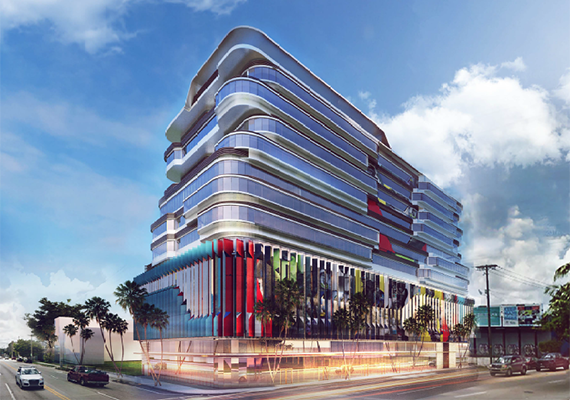 One of the first major office developments proposed for Wynwood won a favorable recommendation from the Miami Urban Design Review Board on Wednesday.
The board approved the developer's application to increase the lot coverage by 6 percent and for a 10 percent parking reduction for a 1.2 acre site at 2916 North Miami Avenue.
New York-based R&B Realty intends to build Gateway at Wynwood, a 12-story building that would have 184,800 square feet of office space, 33,750 square feet of retail space and 574 parking spaces, according to plans submitted to the city's planning and zoning department. Current zoning only allows up to an 80 percent increase in lot coverage.
"We don't have [office buildings] like that in Wynwood or Midtown," said review board member Neil Hall. "So I think that is a positive thing."
Hall also said the building's garage can be used to provide parking after work hours when the building's offices are closed. "With respect to parking, we do have a serious problem at night," Hall said. "People [visiting Wynwood] can use those spaces at night."
The Kobi Karp-designed building is located adjacent to Midtown Miami on the same block as the Electric Pickle nightclub, Derek's World Famous Pies and barbecue restaurant Pride & Joy. Aron Rosenberg's R&B affiliate 2994 NMA Gateway Properties purchased the site for $18 million in two separate transactions last year.
The review board's favorable recommendation follows an October decision by the Miami planning and zoning board granting R&B's request to switch the property from multifamily to general commercial zoning.
Gateway at Wynwood joins another significant office project in the popular arts district. RedSky Capital is planning Cube Wynwyd, an eight-story office building designed by Arquitectonica. Located at 222 Northwest 24th Street, the project would have 80,000 square feet of office space and about 11,400 square feet of retail space.