US car dealer Terry Taylor revealed as buyer of $25M Porsche Design penthouse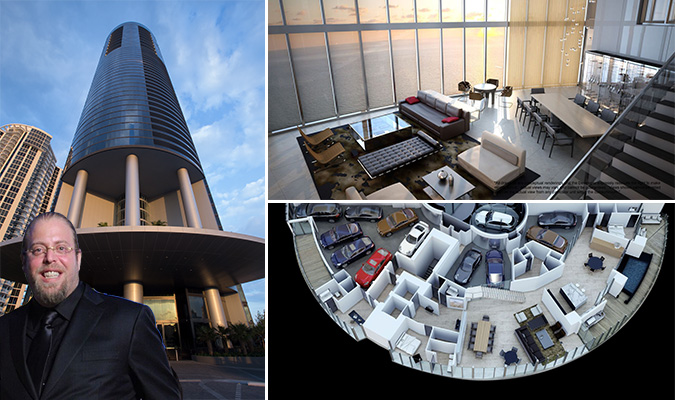 The president of a major car dealership company is the buyer of developer Gil Dezer's Porsche Design Tower penthouse, newly filed property records show.
Terry Taylor, head of Daytona Beach-based Automotive Management Services Inc., paid $25 million for a penthouse at the 60-story tower, where he will have plenty of space to park his cars.
Taylor is among the largest, if not the largest, holder of Nissan and Infiniti dealerships in the country with at least 140 new-vehicle dealerships, Automotive News reported more than a year ago. The publication has grouped the megadealer with industry titans like Rick Hendrick, Rick Case and Alan Potamkin, calling Taylor a "stealth giant in auto retail."
He purchased the newly completed Porsche Design Tower unit last week through TT of Sunny Isles LLC, according to a deed transfer of ownership recorded online Tuesday. The 9,560-square-foot unit sold for $2,615 per square foot.
The four-story penthouse, at 18555 Collins Avenue, traded at a 23 percent discount off its $32.5 million price tag, Dezer Development said on Friday. The building's units are centered around the "Dezervator" that takes residents up to units in their cars.
Dan Goodstadt of Douglas Elliman represented Taylor.
The penthouse includes the standard two two-car garages found in other Porshe Design units, plus a seven-car gallery that can also house a living room, bar and billiard table. It has five bedrooms, an office, family room, flex room, two private pools, two outdoor kitchens, two balconies, a terrace and a rooftop. In total, it has nearly 20,000 square feet.
Taylor used the same entity to purchase unit 3203 in the same tower for $5 million in December. Goodstadt previously said Taylor plans to flip that condo.
Property records have revealed the identities of buyers at Porsche Design, including Mexican billionaire Carlos Peralta Quintero. Dezer has estimated the tower's sellout at $840 million. He said last year that he plans to launch another car-branded condo tower soon.
A previous version of this story incorrectly identified the listing agents. Dezer Platinum Realty was the listing brokerage.