David Edelstein, partners buy Design District dev site, plan office tower
LV Lending sold former Triptych site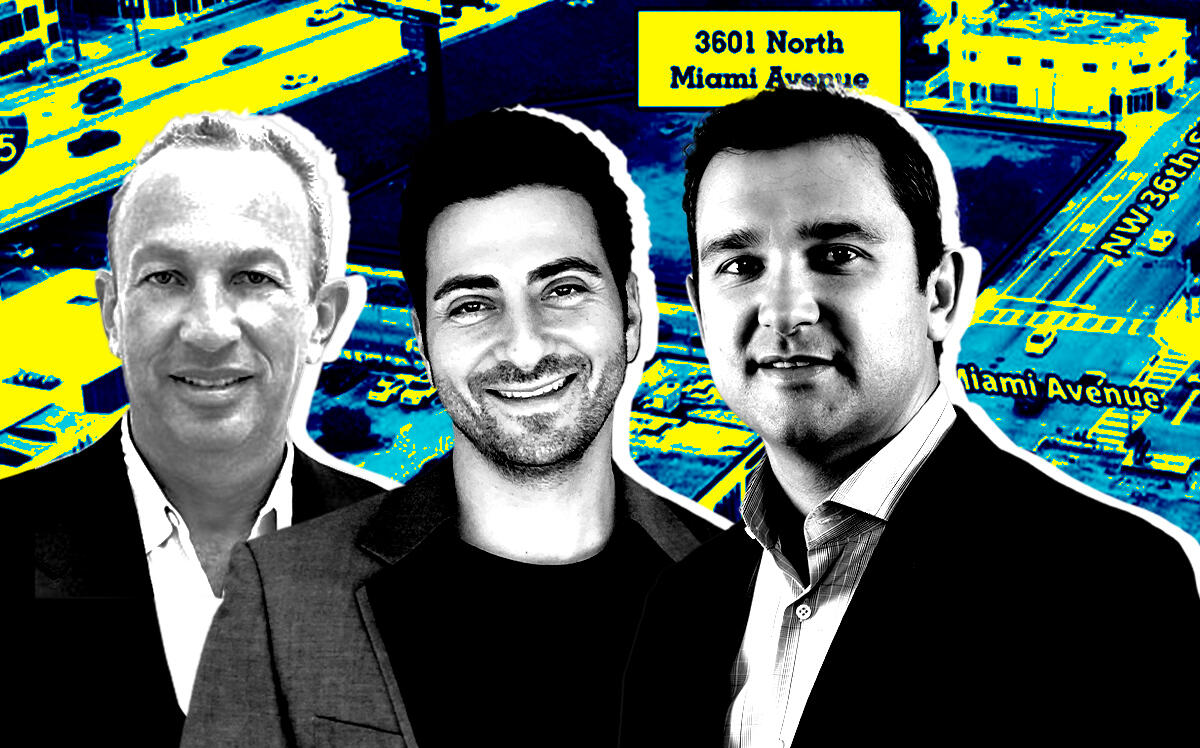 UPDATED, May 18, 2 p.m.: A long vacant piece of land at the entrance to the Design District and Midtown Miami could finally be developed after a trio of prominent developers bought the assemblage, The Real Deal has learned.
David Edelstein's Tricap, Integra Investments and Alex Karakhanian's Lndmrk Development paid $23 million for the 1-acre property at 3601 North Miami Avenue, Edelstein said. The site was going to become Triptych Miami, a mixed-use hotel building, but the previous owner lost it through foreclosure. LV Lending sold the property, which is just south of I-195.
The buyers, who closed on the property on Friday, plan to build a 20-story Class A office tower with a retail and restaurant component, Edelstein said. An Avison Young team led by John Crotty and Michael Fay brokered the deal.
LV Lending took control of the assemblage in September. HES Group had planned to develop the site into a 475,000-square-foot project with a 300-room Hilton Curio Collection hotel and about 38,000 square feet of retail space, 60,000 square feet office space, and a 400-space parking garage. Amid a foreclosure lawsuit from LV Lending, affiliates of HES filed for bankruptcy last year in an effort to bring on new partners or sell the site.
HES Group affiliate Aventura Hotel Properties paid $12.3 million for the site in 2014, records show.
The newly planned development would have more than 250,000 square feet of office space, plus ground-floor retail, Edelstein said. "There is no office space in the Design District. It's all getting eaten up from 29th Street down to 22nd Street," he added.
He and his partners aim to seek permits in about six to eight months, with a projected groundbreaking in 15 months.
The property is visible from the Shops at Midtown Miami across the street and the exit from I-195 onto 36th Street, on the southern border of the Miami Design District.
Cory Yeffet, a partner and vice president of acquisitions at Integra Investments, said the project will be "very well located" with high visibility "in an area that hasn't seen much Class A office."
In March, Miami Design District Associates, a partnership of Craig Robins' Dacra, L Catterton Real Estate and Brookfield Properties, revealed plans for The Ursa, a 15-story office building at 30 Northeast 39th Street. The building will mark the first ground-up office building for the Miami Design District developers.
New-to-market finance firms and technology companies have been fueling the office market. Average asking rents rose for the seventh straight quarter in Miami-Dade County, up 10.2 percent in the first quarter, year-over-year, according to a first quarter JLL report.
A number of developers are planning new office projects in Miami and Miami Beach.
Edelstein's Tricap and RAL Development are expected to break ground later this year on a $200 million, two tower, mixed-use Class A office development along Fifth Avenue, nearby in Wynwood.
Integra is part of a development group proposing office projects on city owned land in Miami Beach. The group is led by Barry Sternlicht's Starwood Capital Group and the Comras Company. A second group that includes Don Peebles and former mayor Philip Levine is also vying for a city site, and Miami Beach residents will ultimately decide at a referendum expected Nov. 8.
Edelstein and Karakhanian are also working together on NoMad Residences Wynwood, a planned NoMad Hotels-branded condo building with a Casa Tua Cucina on the ground floor. Tricap, the Related Group and Karakhanian recently launched sales of the project, which is on a site they acquired from Chinese lender Seven Valleys for $26.5 million last year.