Architects weigh in on South Florida's best, worst buildings
Kobi Karp, Arquitectonica, Zyscovich discuss what they like, what drives them up the figurative wall
Arquitectonica's Bernardo Fort-Brescia, Kobi Karp, Zyscovich's Jose Murguido and SDH_Studio's Stephanie Halfen (Arquitectonica, Getty, Zyscovich, SDH_Studio)
South Florida's reputation as a vain place might extend not just to the way residents look, but also its buildings' appearances. 
Take 1111 Lincoln in Miami Beach. It's a garage, which generally would summon images of a boxy concrete edifice. Yet, the seven-story development next to South Beach's Lincoln Road is hardly reminiscent of a parking structure. 
Herzog & de Meuron Architects designed a building with exposed concrete slabs that jut out to different lengths toward Alton Road and taper, creating an illusion that they are paper thin on one end. It has triangular columns, instead of the typical rectangular ones, and floors of different heights. 
The building, which opened in 2010, includes retail, restaurants, offices, residences and a rooftop event space often used for yoga classes or banquets.  
"They turned something that could have been horrible and really ugly into an architectural sculpture," said Stephanie Halfen of SDH_Studio Architecture + Design. 
While 1111 Lincoln is a winner for Halfen when it comes to South Florida architecture, other buildings in the region miss the mark for her — by a lot. 
The Real Deal asked Halfen and three other architects to spill the tea on what they think are the design feats and fails in South Florida. Each have their favorite likes and dislikes. 
"The way I measure it, my favorite buildings are kind of extroverts and engage the surrounding community," said Jose Murguido of Zyscovich. "They have a catalytic effect that affects the broader community economically, socially and urbanistically."
So what buildings are South Florida's community catalysts? Which buildings truly tie in South Florida's lush landscape or preserve historic elements? And which building did one architect deem a "bad boy brutalist"? 
Bernardo Fort-Brescia, co-founder of Miami-based Arquitectonica 
Architectural feats
Thomas P. Murphy Design Studio Building at the University of Miami School of Architecture, Coral Gables 
Designed by Arquitectonica, the 13,000-square-foot building at UM opened in 2018 as a studio for students and faculty. 
"It does a lot with very little," Fort-Brescia said. "It's simple but sculptural at the same time." 
The elongated concrete-and-glass structure has 18-foot high ceilings. Outside, the oversized concrete roof dips on one end of the building much like a wave, creating a shaded outdoor gathering space.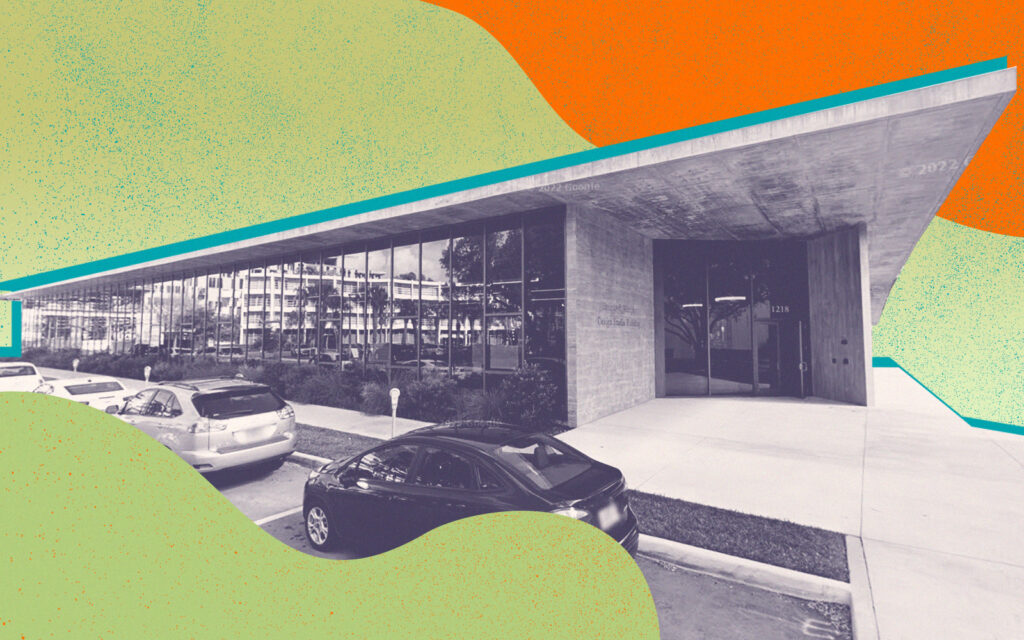 Bacardi Buildings, Edgewater, Miami 
The two-building complex at 2100 Biscayne Boulevard was built as the headquarters for Bacardi, a family owned spirits brand that started as a rum company in Cuba.
Former Bacardi President José "Pepin" Bosch had the eight-story office building on the east side of the lot built in 1963. Designed by Cuban architect Enrique Gutierrez, it has floor-to-ceiling windows and Azulejo murals (a type of Spanish and Portuguese art) by Brazilian artist Francisco Brennand. 
In 1973, the "Jewel Box" cube-shaped annex was added on the west side of the lot. Designed by architect Ignacio Carrera-Justiz, it has Mesoamerican-themed murals on all sides by artist Johannes Dietz. 
The Bacardi Buildings rise atop support structures that are narrower than the main buildings, giving the illusion that the complex is floating. 
"It's a simple rectangular [building], yet it comes alive with these spectacular murals," Fort-Brescia said. "What I even like more is the composition of the vertical tower and the cube."
The buildings are home to the YoungArts foundation, while Bacardi moved its headquarters to Coral Gables. 
Architectural fails
Women's Detention Center, Miami
The four-story light-beige building opened in 1978 at 1401 Northwest Seventh Avenue, making it visible to Dolphin Expressway drivers. 
By nature, prison buildings' designs feel oppressive, but there's something to be said about picking the right location, Fort-Brescia said.
"You wonder, 'Why would they build there?'" Fort-Brescia said. "To put it in that location in that position, it is a little bit unfortunate."  
U-Haul Moving & Storage of Greater Miami in downtown 
The seven-story warehouse at 1000 Northeast First Avenue is also just out of place, Fort-Brescia said. 
It's surrounded by Miami Worldcenter and is a block west of the Zaha Hadid-designed One Thousand Museum condominium. 
The juxtaposition between the modern architectural feats and the older U-Haul structure is a result of downtown's evolution. The area once was Miami's forgotten child, so no one thought twice about building a self-storage facility there. Now, it's a real estate development mecca. 
"I am not picking on that one [the U-Haul facility]. I am saying it as an example of buildings that are obsolete for a neighborhood," Fort-Brescis said. 
Kobi Karp, founder of Miami-based Kobi Karp Architecture & Interior Design
Architectural feats 
Surf Club Four Seasons, Surfside 
Designed by Karp, the project consists of a 72-key hotel and a pair of 12-story condo buildings at 9001 Collins Avenue. Developer Fort Partners completed the project in 2017. 
The 9-acre site includes the original Russell Pancoast-designed Surf Club, which opened in 1930 and once was a private beachfront getaway for celebrities like Elizabeth Taylor and Frank Sinatra.
But the redevelopment turned what used to be an exclusive club to a public space by adding a hotel and repurposing the original Surf Club as the hotel lobby with a lounge and restaurant.   
The hotel's glass cube, cantilever-like structure floats atop the Surf Club, allowing guests views of the Mediterranean Revival building. 
The decision to add a hotel and open the Surf Club to the public came after input from a historic preservation board in 2012, Karp said. 
"At the preservation board, the comment was, 'Kobi, this has always been an exclusionary club. By you restoring it, no one will see it on a daily basis except for the people who live in the condominium,'" Karp recalled. "Which then made me pause and think."
Moxy Miami South Beach 
The seven-story, 202-key building opened at 915 Washington Avenue in 2021 as Florida's first Moxy-branded hotel. 
Developed by New York-based Lightstone, the Moxy is another of Karp's designs. 
The project preserved historic elements that now are part of the ground-floor retail. 
"People walk through the historic elements," Karp said. The design "brings people in from Washington Avenue to walk in and go to the rooftops." 
Caribbean South Beach 
Another Karp design, the condominium also unifies historic with modern. 
The 103-unit building completed in 2008 rises 19 stories at 2727 Collins Avenue next to the original seven-story, 1940s-era Caribbean condo.
The black granite wall remains on the older building, leading residents into a lobby with a terrazzo floor. The original Caribbean has been restored and also includes condos. 
"The historic building is a prelude to the new building," Karp said. 
Fontainebleau Miami Beach
The late architect Morris Lapidus, famous for his penchant for the Miami Modern (MiMo) style, designed the oceanfront resort at 4441 Collins Avenue known for its curving façade. 
The Fontainebleau consists of the original hotel buildings developed by the late hotelier Ben Novack in 1954 with 846 keys, combined, and a pair of condo buildings added in the 2000s with 658 units, combined. 
"The architecture style with its curves and its circles and its geometry is the inspiration that myself and many other architects use on a daily basis," Karp said. 
Miami-Dade County Courthouse
Designed by A. Ten Eyck Brown, the 28-story civil courthouse was completed at 73 West Flagler Street in downtown Miami in 1928. 
But the historic landmark fell into disrepair in recent years. The legal community has complained about mold, leaks and insufficient space. In 2019, county commissioners approved a $267 million new courthouse project at West Flagler Street and Northwest First Street. 
The original courthouse could be repurposed into a commercial use such as a boutique hotel, Karp said. 
"It's an institution of a building with a basement to it. It's everything that 100 years ago, people would have designed in this location and would have said, 'Wow, Miami has a huge future.'"
Architectural fails 
The Federal Detention Center, downtown Miami 
The 20-story prison on the northeast corner of Northeast Fourth Street and North Miami Avenue was built in the mid-1990s. 
It's another downtown building that remains out of place in an area where luxury high-rises are popping up. 
Case in point: It made headlines this year when social media posts popped up of inmates hollering at sunbathers on the pool deck at the Downtown 5th apartment towers developed across the street by the Melo Group. 
To Karp, the "big blocky" design with "little fenestration" just doesn't work. 
It's "almost like a bad boy brutalist," Karp said, referring to the architectural style. "It does not need to look like a jail just because it is a jail."
Stephanie Halfen, founder and principal architect at North Miami Beach-based SDH_Studio Architecture + Design
Architectural feat
Pérez Art Museum Miami
Like Halfen's other favorite, 1111 Lincoln, the museum was designed by Swiss firm Herzog & de Meuron.
The contemporary art museum opened at 1103 Biscayne Boulevard in Museum Park in 2013.
At the bayfront open-air area, gardens in the shape of columns hang from the awning. The landscaping at the museum is inspired by the lushness of Miami neighborhoods such as Coconut Grove neighborhood, Halfen said. 
The building has its own concrete roof but then a wood roof that surpasses the actual dimensions of the building is suspended on top of the museum on stilt-like structures. 
The museum's roof design is "trying to capture that feeling of the stilts houses, and they do it in a very contemporary way," Halfen said. Elements like this show the architects truly studied South Florida to incorporate references to the community in the design. 
"They didn't just pull it [the design] out of a hat," she said.  
Architectural fails
A collection of buildings west of I-95 in North Miami Beach 
Though she can't point to just one building, Halfen said "there are a ton of buildings that are 12- to 15 stories high that [are] literally just blocks." 
"They are just bricks and mortar with openings for windows," she said. "You can actually see them from the 826 [Palmetto Expressway]." 
Jose Murguido, partner and corporate vice president at Miami-based Zyscovich
Architectural feats
Brickell City Centre 
Swire's mixed-use development completed in 2016 in Miami's financial district spans five city blocks. Designed by Arquitectonica, it consists of a pair of residential towers, a pair of office buildings and a five-story open-air mall. 
Brickell City Centre works because it isn't an enclosed development existing in isolation within the rest of the financial district, Murguido said. Instead, it's seamlessly embedded in the neighborhood, meaning pedestrians could be walking through Brickell City Centre without realizing they are in the complex. 
"When you are walking in New York …  you never know if you left SoHo and are walking now into Little Italy because it's so seamless," he said. "That's what makes cities great and the architecture within them great." 
The Square, downtown West Palm Beach 
Related Companies developed the 72-acre mixed-use project, previously called CityPlace and then Rosemary Square for a short while, in 2000. 
Designed by Elkus Manfredi Architects, it includes retail, restaurants, apartments, condos and offices. Steve Ross, who heads Related, unveiled plans this year to redevelop portions of The Square. 
Like Brickell City Centre, The Square's design has a catalytic effect that "extroverts [the development] and engages the surrounding community," Murguido said. "So instead of it being an iconic building …  it has an iconic impact."
Architectural fails
The Shops at Sunset Place, South Miami
The over 500,000-square-foot open-air mall at 5701 Sunset Drive was a top area destination in the years after it opened in 1999, but patronage has dwindled in recent years. 
That's a result of its design with "blank façades" enclosing the retail and dining in a way that the development "turns its back on everything else in the community," Murguido said. "The retail inside the building is on the other end of a fortress wall and the building tends to suffer from that."
Midtown Miami developer Alex Vadia bought The Shops at Sunset Place for $65.5 million in 2021, marking a 40 percent discount from the property's price six years prior. Over the years, there have been several proposals to redevelop the site, though none have panned out. 
Miami-Dade Cultural Center
The complex, which consists of the Main Library branch and the HistoryMiami museum, opened in 1983 on the northeast corner of Flagler Street and Northwest Second Avenue in downtown. 
Designed by the late Philip Johnson, arguably the most famous living architect at the time, the cultural center is in the neo-Mediterranean style and includes a Venetian plaza in the center. The complex is elevated and enclosed by a rampart. 
Ramparts are "great when you have a hostile community around you," Murguido said. "But not so great when you are making a public building. … A public building being surrounded by a rampart is contradictory to being a public building."