Kushner reaches tentative deal with LNR to save 666 Fifth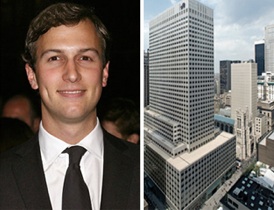 Jared Kushner and
666 Fifth Avenue
Developer Jared Kushner of Kushner Companies has come to a tentative deal to rescue his investment in 666 Fifth Avenue, which he bought for $1.8 billion in 2007, the Wall Street Journal reported. Kushner reached a possible agreement with LNR Property, a firm specializing in restructuring troubled debt and which oversees the mortgage, that would allow him to retain control of the tower by modifying the terms of the $1.2 billion mortgage tied to the office portion of the building.
As The Real Deal reported last month, Kushner is also turning to office giant Vornado Realty which may buy a 50 percent stake in the building. Vornado would pay an undefined "nine-figure" sum (meaning something between $100 million and $999 million), a source told The Real Deal at the time, for a piece of the building. 
The office portion of 666 Fifth began encountering problems after multiple tenants failed to renew leases after the crash. Kushner funded the shortfall on monthly debt payments out of a reserve account but that account ran dry last month, according to the Journal, leaving Kushner open to default.
Under the terms of the agreement, those monthly debt payments would be lowered, sources said. [WSJ]