Moinian Group bringing 160 units to Hell's Kitchen
Mixed-use building at 572 Eleventh Avenue will also include ground-floor retail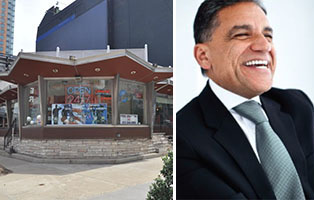 UPDATED, July 14, 12:59 p.m.: Joseph Moinian's Moinian Group is planning to build a 13-story mixed-use building in Hell's Kitchen, according to permit applications filed with the Department of Buildings on Tuesday.
The Midtown-based developer filed plans for 163 residential units spread across 124,000 square feet, in addition to 10,800 square feet of commercial space, including ground-floor retail, at 572 Eleventh Avenue.
A second-floor gym, lounge and outdoor amenity spaces are also planned, according to the permits. The rooftop will feature two 750-square foot private terraces.
The site is currently home to Market Diner, a 1960s-style, 24-hour eatery.
CetraRuddy is the architect of record.
Moinian purchased the property, which sits at the corner of West 43rd Street, for $5.9 million in 2004. The developer recently raised $361 million on the Tel Aviv stock exchange, which will partially go toward funding this project, along with another project at 220 Eleventh Avenue.
A representative from the firm did not immediately respond to a request for comment.
Moinian is currently leasing its 1,175-unit Sky tower at 605 West 42nd Street in Hell's Kitchen — the largest residential rental tower, in terms of unit count, in New York City history.