Inside Mar-a-Lago, Trump's 'winter White House'
The Mar-a-Lago Club is Trump's Florida resort and home base outside of Manhattan. The former home to the heiress of Post Cereal, Marjorie Merriweather Post, Trump turned it into a luxury resort in the '80s.
Trump frequently visits the compound, and will continue to do so throughout his presidency. White House press secretary Sean Spicer called it the "winter White House" when he informed reporters that the president would be visiting over the weekend of February 3. Trump himself used the designation in a tweet about the writing of his inaugural address in January.
Here's what it's really like to stay at the president's favorite retreat, where the initiation fee for membership was just doubled to $200,000.
Mar-a-Lago is a beach and pool club and spa, with rooms, suites, and cottages spread over 20 acres.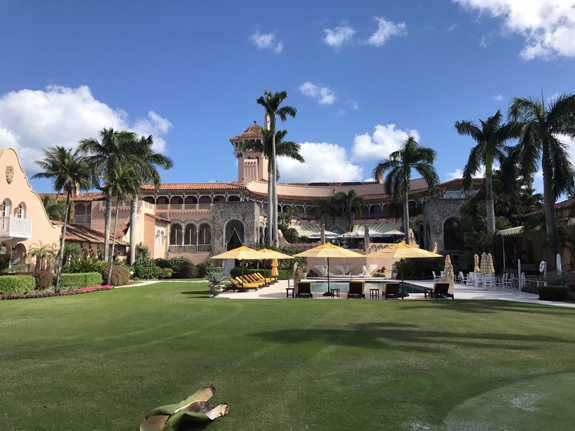 The club has been the site of everything from Trump's most recent wedding, to Maya Angelou's 80th birthday party (hosted by Oprah Winfrey), to various victory parties and events throughout Trump's campaign for president.
The 118-room resort was built in the 1920s by Marjorie Merriweather Post, at the time America's richest woman. She bequeathed it to the US government when she died, in the hopes that it would be the future home of presidents.
The government reportedly had no interest in that plan, and the estate fell into disrepair.
Trump scooped it up in 1985 for less than $10 million, renovated it, and ultimately turned it into the destination it is today. The club currently has 482 members, with a cap of 500.
The elite of Palm Beach sneered at Trump's arrival at first. He opened the private club up to both Jews and African Americans, and he even admitted a gay couple — the first on the island to do so.
The casual patio restaurant serves dishes like "Barron's Macaroni," named after Trump's youngest son.
A tunnel connects the well-kept grounds to the beach.
But you can't go inside the resort while in beach or pool attire, as there's a formal dress code.
The newest amenity is the most exclusive, however: the owner, Trump himself, will be a frequent visitor and will stay in his residential villa on the grounds. When he is around, increased security and Secret Service are a noticeable presence.