The balancing act of Westchester multifamily building
Rental projects continue to rise rapidly in Westchester, but developers are struggling to offer affordable rents for locals while also luring moneyed millennials
From the Westchester market report:
For the last several quarters, Westchester County has benefited from New York City's increasing unaffordability. But the local multifamily building boom that sought to accommodate rising demand from exiled New Yorkers has in turn made it harder to retain locals, experts say.
Developers and city planners are struggling to build for both groups, which means developing stock that long-term locals can afford, as well as units with pricey features that could draw young New Yorkers and retain local millennials who would otherwise move out of the area. According to the U.S. Census, the number of people between the ages of 25 to 34 dropped by almost 8 percent between 2000 and 2016.
A number of new projects have popped up along both the bucolic environs of the Hudson River and in the urban settings of Mount Vernon, White Plains, Yonkers and New Rochelle. Many of them are aimed squarely at young New York commuters looking for alternatives to Brooklyn and Queens. Builders hope to tempt them with high-end finishes and amenities such as roof decks, gyms and communal rooms, sources said.
Riverside luxury
The promotional material at the Lofts on Saw Mill River, for example, describes the apartments as "Tribeca-like." At $3,645 for a 952-square-foot one-bedroom apartment, the $35 million Hastings-on-Hudson property has rents that exceed anything else in the area.
Martin Ginsburg of Ginsburg Development Companies, which built the property, said that the county has been lacking units that appeal to metropolitan tastes.
"In actuality, Westchester was way behind in building luxury apartments. There were very few and still are very few luxury apartments here," he said.
Ginsberg's company, which primarily sold condos prior to the financial collapse of 2008, has since altered its investment strategy, focusing instead on the construction of rental buildings.
The firm's projects have rental prices to suit the well-heeled clientele they target. Their $65 million, 118-unit Harbor Square apartment building, which sits on the Ossining riverfront, rents a 912-square-foot one-bedroom apartment for between $2,695 and $2,995 a month. The 330-unit building River Tides at Greystone — a $100 million development on Warburton Avenue in Yonkers — also pushes the envelope for local rental prices. A one-bedroom apartment just under 900 square feet rents at about $3,295. By contrast, June's median rent price for a one-bedroom in Yonkers was $1,500, according to data from Trulia.
"We'll be the highest in the neighborhood and still the best value," Ginsburg said. "Does that mean that not everyone can afford it? Yes, probably. But we try to create a variety of models so that we have a wide enough range of apartment types and yet everybody has the same amenities and interior appointments and so forth."
Mount Vernon
Meanwhile, in Mount Vernon, developers have placed more of an emphasis on providing affordable housing stock. In June, four developers announced proposals to bring a total of 900 units, worth over $300 million, to the city. The plans are geared toward getting funds from Gov. Andrew Cuomo's housing initiative, which dedicates $2.5 billion to developers of market-rate projects that have an affordable housing component.
Enclave Equities submitted one of the four proposals. The Purchase-based company plans to build 179 units in five apartment buildings, each five stories, at 525 and 645 MacQuesten Parkway. The developer estimates a cost of $48 million.
"We have had success in Mount Vernon already with another project, so we know Mount Vernon can work," says Sam Mermelstein, vice president of development at Enclave Equities, referring to the company's redevelopment of an 80,000-square-foot former Verizon call center at South 5th Avenue. The company put 40 units of senior affordable housing and a 22,000-square-foot extension center for Westchester Community College in that space. The project, which broke ground in 2013, is now fully leased.
Mermelstein said the five-building proposal has a "very millennial focus, with amenities like a roof deck and smart technology, which allows you to control power and lights from your phone." However, these aren't luxury units. He expects one-bedroom apartments to rent for around $1,600 and for two-bedrooms to rent for $2,100. By the time the project is completed, those prices may be in line with the local market. The median one-bedroom rental price in Mount Vernon was $1,270 in June, according to Trulia, which listed June's two-bedroom median at $1,800.
Enclave, which is tearing down two warehouses to construct the new projects, canvassed local residents when they were deciding what to design.
"Overwhelmingly, they did not want high rises," Mermelstein said. "They wanted mid-rise buildings, around five stories. They were concerned about traffic and parking, and so those were all factors in what we proposed."
When it comes to financing these types of projects, Westchester Bank's CEO, John Tolower, feels lenders are embracing the wave of development optimism in the county. "When you have a project that is being proposed by the right developer, [that is] centrally located and near transit, which is being offered in White Plains and other areas in Westchester, it's an attractive proposition for a bank," said Tolower. "Banks are in the business of supporting projects that are profitable. Many of these millennial-orientated multifamily projects make a lot of sense to a bank."
White Plains
Changes are afoot in White Plains, which announced in June that it was seeking developers for 4.5 acres of land around the city's Metro-North rail station. The city's vision involves a public square with mixed-use development projects that include apartments and street-level retail. Included for demolition and redevelopment are two parking lots, One Parking Garage And A Firehouse Along Ferris Avenue And Bank Street.
The city's desire to rebuild its nucleus falls in line with other sizable projects in town. Two mixed-use apartment buildings on Westmoreland Avenue have been approved by the city, as has a $250 million, 561-unit mixed-used apartment tower at 55 Bank Street. The aging White Plains Mall on Hamilton Avenue has also recently been targeted for a major mixed-use development. Port Chester-based developer Street-Works Studio and the building's owner, WP Mall Realty, propose tearing down the existing 40-year-old retail structure and replacing it with a 900,000-square-foot multifamily housing development, retail space and craft food hall. The project has not yet been approved.
"It's a four-acre site, two blocks from the train station, that acts as a knuckle connection into the downtown," Said Street-Works' co-founder and managing partner Ken Narva. "The public space will be comparable to Bryant Park in the city, which is really active."
For 35 years, Street-Works Studio has been working on numerous projects throughout the country. Narva feels White Plains has all the elements to ensure its makeover is successful.
"Because it's in the middle of the county, it's very appealing to people who want to ride a bike and be outdoors," he said. "But the county itself has been shrinking, not growing because young people have left. Our project is the chance to try and retain some of those young people and bring others into the center of this county."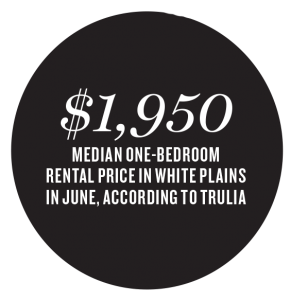 New Rochelle
With so many sites in Westchester trying to lure investment, New Rochelle faces stiff competition from Yonkers and White Plains in attracting developers. Rather than go toe to toe with its neighbors in proclaiming its positive attributes, the city instead made developers an offer they couldn't refuse: a 90-day approval process.
"If you talk to a developer, the biggest obstacles they'll tell you about are getting governmental approval and dealing with the community. Often, developments can go through a five-to-10-year approval process and at the end of that they can get turned down," said Luiz Aragon, the city's development commissioner. "Almost all of downtown surrounds the train station. We took a step back and rezoned it and created a true TOD [transit-oriented development] site."
The city, in partnership with RXR Realty, designed a master plan for a new inner city made up of 12 million square feet of new construction. The project underwent a year-long process to get State Environmental Quality Review Act (SEQRA) approvals. It then sought developers to submit plans for buildings within the project. In July, RXR Realty announced a proposal for about 700 units and 40,000 square feet of retail space in two 28-story towers within the district.
The beauty was that all the legwork required for approvals was already in place, thus eliminating uncertainty. With tax exemptions cleared through the city's Industrial Development Agency, notable large-scale projects soon followed.
Among them was the $30 million, 110-unit amenity-laden development Millennia, by developer ELD, which broke ground in June. "Millennia is a typical project that came through this project, privately developed where they [ELD] knew exactly what they needed to do to get the approvals, which they got within 90 days," Aragon said.
MacQuesten Development's winning bid to remake the firehouse at 45 Harrison Street as a $110 million, 27-story mixed-use building with 282 residential units came through a slightly different process than Millennia since the land, which belonged to the firehouse, was already owned by the city.
"The selection of the developer was based on the same parameters," Aragon explained. "The developer came to us to do this because they knew they could get the approvals and abatement within 90 days."
Aragon said that New Rochelle is attempting the stop the hemorrhaging of young people from the city by teaming up with innovators to "create a destination for millennials." Citing arts and technology-driven community amenities as pivotal to sparking revitalization, Aragon said, "We've been partnering with professors from NYU and focusing on virtual reality and augmented reality. One of the projects we're excited about is [a] black box theater, which is one of the developments downtown that is under construction now."
The 8,000-square-foot theater, located at the former Loew's Theater site, will feature cutting-edge technology to give the appearance that actors — potentially from different parts of the world — are on stage with actors who are actually present. The space will sit on the second floor of developer RXR's mixed-use project at 587-599 Main Street and will include a combination of 272 studio, one- and two-bedroom apartments, 30,000 square feet of retail space and a 272-space parking garage.
Aragon says that New Rochelle looked at other cities for inspiration and found it in Evanston, a suburb of Chicago, which is roughly the same size. "They are ahead of us in terms of development and have been experiencing a renaissance," he said.   
Depending on the real estate market, the commissioner expects New Rochelle's transformation to take five to 10 years.
"We're positioning ourselves not as a suburb but as a small city that can offer all the amenities of New York City but at a lower price," he said.