National Cheat Sheet: Why Zillow's stock has fallen 23% since June, Paul Manafort's real estate fixer speaks out … & more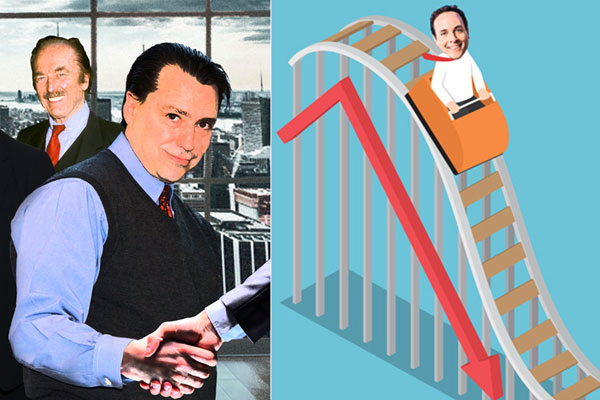 Why Zillow's stock has fallen 23% since June
While the Seattle-based listings giant's stock price is up 15 percent from last year, it has dropped in value since mid-June — closing at $39.62 on Aug. 31 when two months ago it was hovering at $51.23. Competition from Redfin's IPO, a few litigious adversaries, Amazon's rumored foray into real estate, and NYC subsidiary StreetEasy's controversial monetization strategy are factors contributing to Zillow's topsy-turvy run. Check out
TRD
's full analysis
here
. 
[TRD]
Meet Brad Zackson, Paul Manafort's real estate fixer
Brad Zackson is a protege of Fred Trump, the President of the United States' father, and he served almost five years in prison. He is also the real estate fixer for Paul Manafort, former chairman of the Trump campaign and a central character in special counsel Robert Mueller's investigation into the campaign's ties to Russia. Zackson spoke to
TRD
about his relationship with Manafort and came to the embattled operative's defense: "All I'm gonna say, you'll see shortly, is it's all lies. Complete lies. I'm surprised at some of the people that are writing them," he said. But there is so much more. Make sure to give it a read. 
[TRD]
Venture-backed Compass charts new course with CFO swap
Craig Anderson, former CFO at cycling chain Flywheel, will be the new CFO at Compass, the startup real estate brokerage. David Snider, the CFO who was an architect of Compass' venture capital-backed growth, was pushed out. Compass confirmed the change-up on Wednesday. "Robert and the board made the decision that we need an experienced CFO who is a fit with our culture," said Julie Binder, Compass' head of communications said.  
[TRD]
Higher construction costs and slow revenue growth hurting hotel development
After years of rapid growth, new hotel development across the county is slowing, according to Census data first reported by the Wall Street Journal. Construction labor shortages combined with declining revenue from hotel operators are putting pressure on potential projects. "That kind of one-two punch doesn't make it exciting to build another hotel," said Concord Hospitality Enterprises chief executive Mark Laport.
[TRD]
Commercial real estate's bull run might be ending, report finds
The commercial real estate market might be nearing a downturn and is already past its peak in some segments, a
RCLCO report found
. Although a crash seems unlikely, the report predicts that one of the longest periods of economic growth in U.S. history could be tapering off. "[W]e anticipate moderating, though still generally positive operating and investment performance for the duration of 2017 and into 2018," RCLCO's report said.
[Bisnow]
Major Market Highlights
The 10 biggest new-development marketing firms in NYC
With a total of $9.13 billion in closed sales between June 1, 2014 and May 30, 2017, Corcoran claimed the top spot on The Real Deal's list of of new-development marketing firms. Douglas Elliman placed second with $5.92 billion in closed sales, followed by Stribling Marketing Services with $1.48 billion and Halstead Property with $1.1 billion.
[TRD] 
Taming the dog days: Some NYC brokers thrive in the summer
The city that never sleeps traditionally slows down in August, but some New York residential brokers told
The Real Deal
that there's still money to be made during the heat of the summer. "If you list in the summer it's a good way to bring attention and get some traction," CORE's Heather McDonough said. "There are still buyers out there, and there's not a lot of inventory."
[TRD]
Rental prices expected to keep rising in South Florida
Even with another 16,000 new apartments expected to flood the market this year, rents in Miami-Dade, Broward and Palm Beach counties are expected to keep rising, a Marcus & Millichap report found. Vacancy rates would continue to grow due to the increased inventory, and rental rates are still expected to remain cheaper than average monthly mortgage payments, the second quarter multifamily market report found.
[TRD]
Relevant Group unveils renovation plan for LA's Morrison Hotel
The Doors made the building at 1246 South Hope Street famous when it appeared in the cover art for the 1970 Morrison Hotel album. Now the Relevant Group will develop it into a luxury hotel that will be an "ode" to the band's frontman, Jim Morrison. The $110 million renovation — to be completed by 2020 — will feature a new 12-story tower and 245 rooms and a roof-deck pool.
[TRD]
Uber plans to sell its Oakland building, consolidate in San Francisco
Ride sharing giant Uber plans to sell its Uptown Station building in Oakland and consolidate its Bay Area workforce in Buildings Off Third Street in San Francisco. Uber bought the Oakland building in 2015 for $123.5 million with plans to fill it with 2,500 employees.
[San Francisco Business Times]
$20M redevelopment plan in Midtown Detroit hopes to create a tech corridor
With a $20 million mixed-use project coming to Selden Street, the nonprofit development organization leading the area's rebuilding efforts hopes to bring entrepreneurs into a new tech corridor. The Selden Corridor Initiative, run by Midtown Detroit, Inc., plans to build a bar/arcade, a public outdoor workspace, and eco-friendly homes. "Once complete, this will be a place for all people — entrepreneurs, women, people of color — to build skills," Marcia Ventura, senior VP of Invest Detroit, said. 
[Crain's Detroit Business]