Starwood's well runs dry at troubled West Texas multifamily portfolio
Private equity giant slammed by dual downturns in energy-dependent market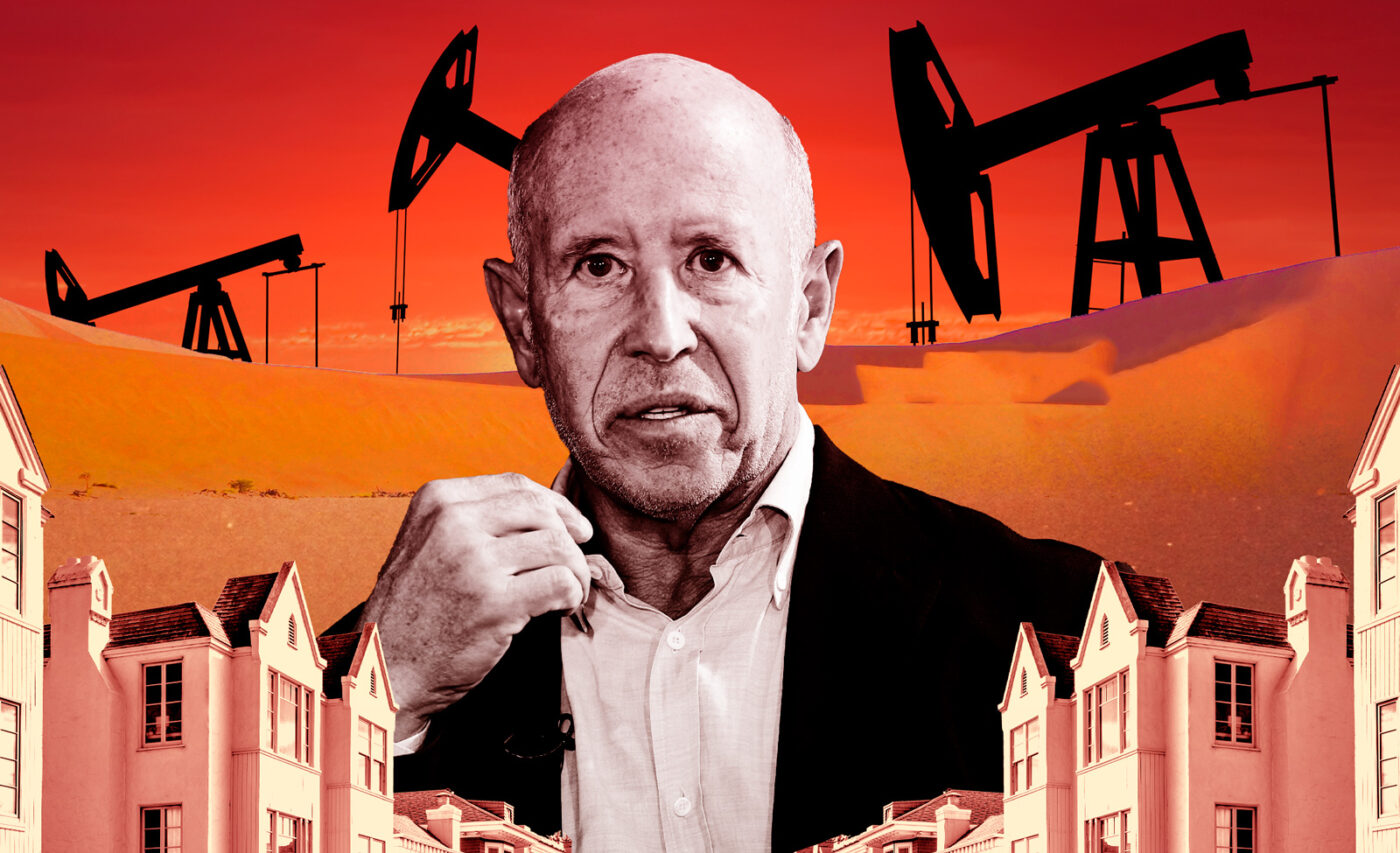 Starwood Capital CEO Barry Sternlicht (Getty)
In 2014, Starwood thought it hit a gusher in West Texas oil country. But like many would-be wildcatters, the firm may now be left with little more than a sad story and a sunburn. 
As rates have risen and rent growth slowed, swaths of Sun Belt rental properties acquired at the top of the market have spiraled into distress. But for a stretch of West Texas multifamily owned by Starwood Capital, it's not the macro factors that sparked trouble; the area's oil industry is to blame.
On the heels of the 2014 oil bust, Starwood picked up four investments in Midland and Odessa, twin cities in Permian Basin, the heart of Texas oil country.
The firm had likely bet on a boom — the oil industry is defined by its fits and starts. Instead, two gnarly busts sent oil prices spiraling and rents following suit. 
Through the down years of 2016 and 2020, the Miami Beach, Florida-based private equity firm struggled to keep up with payments on $100 million in debt covering more than 900 units. Two multifamily assemblages have landed in default and face foreclosure, while the other two are struggling with delinquency.
The loans covering the assets — Park at Caldera, Aviare Place Apartments and Hawthorne House Apartments in Midland, plus University Gardens in Odessa — come due in November 2024.
As rent growth in hotspots like Austin and Dallas has slowed, Midland and Odessa apartments have kept up the boom, with continued increases in occupancy and rents. But looming employment forecasts may add pressure as Starwood looks to retain its two remaining investments. 
Less boom, more bust
Starwood's West Texas holdings first took a hit in 2016, when oil prices plummeted and employment across the region followed suit. 
Local investors are accustomed to the oil industry's boom and bust cycles, which drive job growth and thereby rental demand. When prices rise, investment surges and employment rates follow  — a boom. But higher prices eventually curb demand, and amid an abundance of supply, prices collapse, investment slows and unemployment rises.
When Starwood mortgaged its Permian Basin properties in 2014, oil was reeling: In the back half of the year, the price of crude oil fell by more than 50 percent to $52.72 per barrel, according to data from the Federal Reserve Bank of St. Louis. 
By 2016, prices had bottomed out at $29.32 per barrel, a 75 percent decline from mid-2014. Unemployment ticked up to 4.7 percent from 2.9 percent in the same period.
Rents fell in suit. 
"If you want to pick a market that's affected most by what happens in oil and gas, it's Midland-Odessa," said Harold Hunt, an economist and researcher with the Texas A&M Real Estate Center. 
Servicers watchlisted the $26 million loan on the Aviare Place Apartments in early 2016 after a drop in rents dragged down revenue. Those slipping collections stemmed from job losses in the oil and gas industry in the second half of 2015, the servicer note read. 
By the end of 2016, Aviare Place held a debt service coverage ratio of just 0.88, meaning net operating income had fallen below debt service. 
Meanwhile, as renters ditched their leases at University Gardens, a 160-unit lowrise development, Starwood was forced to cut rents to keep occupancy afloat, according to Morningstar. That drop-off dragged the property's DSCR down to a watchlist-inducing 1.09. At Park at Caldera and Hawthorne House, ratios bottomed out at 1.08 and 1.22, respectively. 
But Starwood managed to ride out that first bust.
Oil prices rebounded through 2018, a boom that eased the unemployment rate to about 2 percent in 2019. Servicers pulled all four loans from watchlists, and Starwood's oil country dreams survived — for the moment.
Return to servicer  
The onset of Covid delivered an oil bust for the history books.
Global lockdowns in early 2020, sent suppliers scrambling to find storage for a glut of crude oil. Prices dropped 306 percent in a day to settle at -$37.63 a barrel, the first time on record futures went negative.
By May, unemployment in Midland had jumped to a staggering 12.3 percent in May. 
The downturn dealt a fatal blow to two Starwood Properties: University Gardens in Odessa, and Park at Caldera in Midland.
In 2020, Park at Caldera's occupancy slipped from 94 percent to 80 percent. As of November 2021, the development's debt service coverage ratio hovered at a mere 0.48. 
University Gardens fared little better with a DSCR of .72 by the end of 2021. 
In February 2022, the portfolio transferred to special servicing for imminent default after Starwood "indicated it can no longer cover payment shortfalls."
The firm declared imminent default for Park at Caldera the next month. 
Both assets are marked REO or real estate owned in servicer records, signaling the borrower defaulted on its debt obligations and the property failed to sell in a foreclosure auction. 
However, it's unclear whether a foreclosure has been finalized. Servicer notes from earlier this year show Starwood requested loan relief and foreclosure may be on the table.
Starwood declined to comment on any of the West Texas multifamily investments.
Sliver of hope
At Aviare Place and Hawthorne House in Midland, the firm still has a chance to right the ship, though prospects remain dim. 
The properties took a walloping during Covid. Aviare Place landed on a watchlist in November 2021 for late payments after its DSCR dropped to 0.66. 
Starwood told its servicer that some of the 21 properties in the portfolio had not been profitable, and it could take "up to 3 years before they reach that point," according to Morningstar. 
Rents in the area have rebounded as the pandemic has waned, leading researchers such as Hunt to point to strength in the market. 
Of the 26 Texas multifamily markets the Real Estate Center at Texas A&M University tracks, Midland-Odessa is one of just three that is still posting increases in rent and occupancy levels. The other two, College Station and Texarkana, are up by less than one percent. Midland-Odessa apartment occupancy has reached 92 percent, while its average rents have shot up 19 percent. 
But those current gains veil the market's overall performance post-Covid. 
As of May, the median rent for a one-bedroom in Midland remains nearly 9 percent below where it stood in February 2020, according to Zumper. 
That's a far cry from the national trend. Last month, Zumper's national index pegged the median one-bedroom at $1,504, 23 percent above its pre-pandemic price.
Earlier this year, the rent tracking site Apartment List ranked Odessa as one of the cheapest towns in Texas, where the median price for a two-bedroom clocked in at $693, 64 percent below the statewide average. 
Last summer, both Hawthorne House and Aviare Place nabbed three-month moratoriums on rental payments — debt Starwood now has until September to pay back. 
But recent servicer notes point to properties that have failed to regain a financial foothold.
In April, Hawthorne House was still reporting high loss-to-lease rates and vacancies, according to a note by LNR Partners, the special servicing wing of Starwood, which is overseeing the properties. 
The servicer added that new construction had flooded the market and pressured rent growth, a problem for landlords across the Sun Belt. 
Aviare Place in April held a median rent nearly 10 percent below the area median, according to Apartment List. 
Starwood paid its May debt service late, though it righted the delinquency in less than 30 days. 
Steady goes it
No surprise here: The middling recovery of the oil industry is likely to blame.  
Despite a snapback in all non-farm jobs statewide, the Texas oil and gas industry had recovered just about half of its workers as of May 2022 after it saw employment plummet 20 percent during the first year of the pandemic, research by the Institute for Energy Economics and Financial Analysis found.
The report, titled "As good as it gets?" floated that employment may have plateaued. 
But the greater problem for multifamily landlords is that leveling off is likely purposeful.
After the 2020 bust, companies have aimed for stable growth to avoid the cyclical trap that's come to define the Permian Basin, NPR's Morning Edition reported this week. 
"The Permian Basin went bust a few years ago, and then boom times came back — but oddly quiet boom times," host Camila Domonoske said. 
Chugging along may not cut it for Starwood. The average rent at Hawthorne House still stands 32 percent below what its lender underwrote for. Aviare Place is 44 percent below underwriting.
That is, the investor's bet on boom times may just go bust.