Warren Buffett's bombshell buy
All eyes on Houlihan Lawrence after sale to Berkshire Hathaway HomeServices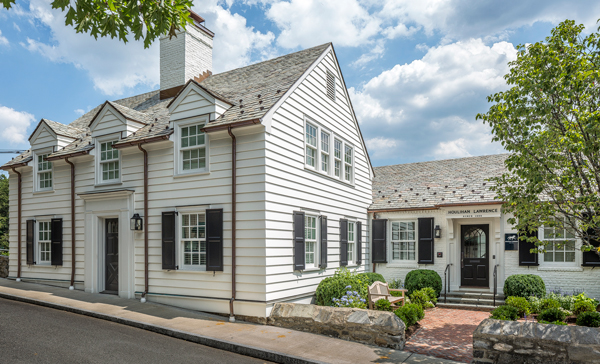 When the "Oracle of Omaha," billionaire business magnate Warren Buffett, bought Houlihan Lawrence this year, it sent shock waves throughout the real estate industry in Westchester County. Buffett's Berkshire Hathaway HomeServices of America, a national behemoth, had snapped up a local firm that had been family-controlled since the 19th century and was known for its devotion to the region.
Seven months later, there has been some turnover in the executive suite at Houlihan and continued nervousness by brokers inside and outside the firm about what's coming next. 
While so far Houlihan's ranks remain largely intact, according to sources, some brokers warn it's too soon to judge the effects of the deal, whose terms have not been disclosed. They say that the takeover of Julia B. Fee by Sotheby's International Realty a decade ago — a similar case of a large national firm absorbing a regional brand — ultimately led to many job losses. And fears linger that newly flush Houlihan could still swallow up competitors, which would rattle the market, sources point out.
Moreover, HomeServices, which has a wide national referral network, could pose stiff competition for more localized players, like Douglas Elliman Real Estate, which gets leads from its New York City offices.
And if Houlihan expands into neighborhoods where HomeServices already has outposts, it could effectively step on its own toes. However, Berkshire officials said that they don't think it matters to have two competing brands in the same area, citing the example of Brown Harris Stevens and Halstead in New York City, which are both owned by Terra Holdings — though that is obviously a much broader market.
One thing most brokers seem to agree on, however, is that the acquisition was startling.
"I was very surprised when I heard," said Pati Holmes, who manages the Rye office of rival of Julia B. Fee Sotheby's International Realty. "Houlihan had a good thing going and prided themselves on being a family-owned company, which was a big part of their identity."
Sea change in the C-suite
The deal, which was announced Jan. 17, unsettled agents at Houlihan, according to Chris Meyers, one of three siblings who previously owned the firm and who is staying on as its president.
Meyers said that this past winter, as he visited many of the firm's 30 offices — which include a handful in Connecticut — many agents said they were concerned that the new corporate parent would lay off agents to cut costs. "Chatter from competitors was behind a lot of that," he said. "In some cases it was almost comical the way the stories had been concocted."
Meyers added that those stories were in some cases being used to poach his agents, though unsuccessfully; his firm's agent head count in early July was about 1,300 in Westchester and Fairfield counties, up about 50 from the start of the year, he said.
He also might have Hollywood to thank for keeping agents on board. The HBO movie "Becoming Warren Buffett," which aired this year, allayed some fears. "I got emails from my agents saying, 'I get it now,'"  Meyers said.
But there has been turnover in the senior ranks.
Chris's sister, Nancy Seaman, who purchased Houlihan from the Lawrence family with her late husband, Peter Seaman, in 1990 and had been serving as chairwoman, stepped down to focus on philanthropy.
And control of the company's image has shifted to Anne Marie Gianutsos, who formerly oversaw digital marketing and public relations. In early July, Gianutsos was named chief marketing officer.
"The firm's marketing materials have been very consistent, which Nancy was good at," said Mary Stetson, the owner of Stetson Real Estate, an independently owned firm in Mamaroneck with 27 agents. Stetson added that it remains to be seen if Gianutsos can maintain the same level of quality, though Houlihan officials have said that no signage, flyers or ads will change, even to incorporate the logo of HomeServices, which is a subsidiary of the Berkshire Hathaway corporation.
Arriving from outside the firm, meanwhile, is Nicholas Fears, who last month became Houlihan's chief financial officer, a newly created position. Previously, balancing the books was a duty that fell on Meyers, whose title was chief operating officer.
Fears, who arrived from Coldwell Banker Residential Brokerage — where he also was chief financial officer — was needed because Berkshire Hathaway is publicly traded, meaning Houlihan will now be held to stricter accounting standards, Meyers said.
This summer Houlihan plans to hire a human resources coordinator, a position that's been unfilled since 2015, Meyers said. That employee will implement "both local and corporate HomeServices of America initiated programs and processes," accoding to an ad for the position.
Stephen Meyers, who was chief executive officer at the old Houlihan, is continuing in that role.
Parental controls
The fact that day-to-day operations haven't changed much since the acquisition is by design, said Ron Peltier, chairman and chief executive officer of HomeServices of America, which is based in Minnesota.
Far from exerting micromanaging control, Peltier has not yet set foot in Houlihan's headquarters in Bronxville, he said. At the same time, Meyers is expected to travel to Minneapolis just a few times a year.
"We tell all our companies, 'We want to continue to grow and expand your markets, under logical growth, as if your family still owned it,' " Peltier said, adding that the same philosophy informs Berkshire Hathaway, a holding company with about 100 businesses under its umbrella, including Benjamin Moore and Co., Geico and Russell Brands.
HomeServices, which launched in 1998 and is technically owned by the Berkshire Hathaway Energy subsidiary, owns or operates 39 brokerage firms across the country, including some in the Northeast. Examples include the former Fox and Roach Realtors in Philadelphia, the former Gloria Nilson and Co. in New Jersey and the former Prudential Connecticut Realty, all of which currently do business under the HomeServices name.
If the transition to new ownership has so far been relatively smooth, there might still be some confusion among buyers and sellers, since HomeServices offices already exist in the area, brokers say.
In Westchester, for instance, there are four of them, including a pair in Scarsdale and Larchmont, which launched as HomeServices outposts after Berkshire bought the Prudential Real Estate franchise network from Brookfield Asset Management in 2012. There are also HomeServices offices in Eastchester and Rye. "That's going to be the weird part," Stetson said. "Maybe they will just be folded into Houlihan Lawrence."
But for his part, Peltier said that the suburban market is deep enough to be able to handle all of them without any cannibalization. "We are not particularly bothered by it, even if some people are surprised by that mindset," Peltier said, pointing to the coexistence of BHS and Halstead as well as the Corcoran Group and Citi Habitats, which are owned by Realogy.
In Westchester, other national firms like Keller Williams have entered the market and made gains in recent years. But there have been few major takeovers. And when they have occurred, they shocked the system as they led to managers being replaced and agents being laid off, said brokers, who pointed to Sotheby's International Realty's 2006 purchase of Julia B. Fee, an eight-office firm founded in 1960 in Scarsdale.
A deal coalesces
Looking for a way to crack the bustling Westchester market, HomeServices had offered to buy other local firms, according to Peltier, though he declined to provide names. 
What finally allowed this deal to succeed was a personal connection: Nancy Seaman's husband, Alan Schwartz (Seaman remarried after the death of her first husband), is the executive chairman of investment bank Guggenheim Partners and someone who knows Buffett, Chris Meyers said. "He had a conversation with Warren himself in the fall of 2016," Meyers said.
While Buffett did not actually "price" the deal, which was paid in cash, he did give it his blessing, said Peltier, who also knew Stephen Meyers for years through national real estate organizations. Buffett "was very supportive and positive about it," he added. In fact, in this year's installment of Buffett's closely scrutinized letter to shareholders, Houlihan earned a mention as "the leader in New York's Westchester County." Indeed, The Real Deal ranked the firm as the most successful in Westchester, with about $3.66 billion in sales across 3,625 transactions in the 12-month period ending in October 2016. And that first-place finish put it head and shoulders above the second-place firm, Julia B. Fee, which had $1.22 billion and 946 deals.
Though the sale may have come together quickly, the Meyers family had been laying groundwork for a while, brokers say.
In 2013, Houlihan, which had targeted Westchester exclusively since 1888, expanded into Greenwich, Connecticut, in a surprise move. Today, the firm has five offices in Connecticut, three of which — in Darien, Rowayton and New Canaan — were franchises owned by another firm, another departure from tradition. (Houlian Lawrence wholly owns those three now.)
"I wonder if they puffed themselves up a bit in order to be purchased," said Jim Renwick, the owner of Renwick Sotheby's International Realty, a 20-agent, fourth-generation franchise in Bedford Village.
Brokers say that larger, more generalized brokerages could feel an impact from the HomeServices merger, such as Douglas Elliman, which does not subscribe to a national affiliate network. Instead, Elliman relies on referrals from its agents in New York City, betting that most buyers in Westchester are relocating there from the city.
Elliman, which did $378 million in 423 deals in Westchester last year, for a fifth-place finish on TRD's list, isn't nervous.
"We have the wind at our backs," said Owen Berkowitz, a salesman in Elliman's Scarsdale office.
The future, and challenges
The Houlihan sale comes as HomeServices aggressively targets the larger New York region. In January, the firm opened its first Manhattan office, in an upper-floor suite on Madison Avenue. That office had just 20 agents in July, according to its website, including longtime city broker Laurance Kaiser, who joined in late June after HomeServices bought his former firm, Key-Ventures Real Estate.
Despite hiring established agents, the office has few exclusives, based on a search of its listings.
While powerhouses like Elliman and Corcoran will be hard to beat, the HomeServices Manhattan office won't have more competition any time soon. Houlihan's next offices will be in Connecticut and there are no current plans for Manhattan, according to Meyers. "We're going to stick to our knitting," he said, adding that New Jersey is also not on the radar.
But Peltier was more circumspect about a possible New York City expansion. "It's not totally out of the question," he said.
Still, Westchester has its own challenges. Last year, when HomeServices was mulling the Houlihan deal, the market was robust, especially in the southern part of the county. But in the last few months, conditions have softened, said Holmes of Julia B. Fee.
"It's been complicated. It's not been a bad market and it's not been a good market," she said. "The village locations are what buyers want, but not just a few miles outside the villages." Other agents said that houses priced for more than $1.5 million are struggling.
And the promised benefits of being tied in to HomeServices' national network, which can come in handy when people are relocating from other states, have not yet materialized, Meyers said. "I can't point to any deal in particular that came about because of it," he said, adding that Houlihan is already a member of Leading Real Estate Companies of the World and similar referral services.
Peltier isn't showing any buyer's remorse. "It's a great company, with a fabulous and storied history and brand," he said, "and we are very proud to be part of its marketplace."