IBM to take entire WeWork building in landmark deal
88 University Place is first NYC property where WeWork will cater to single tenant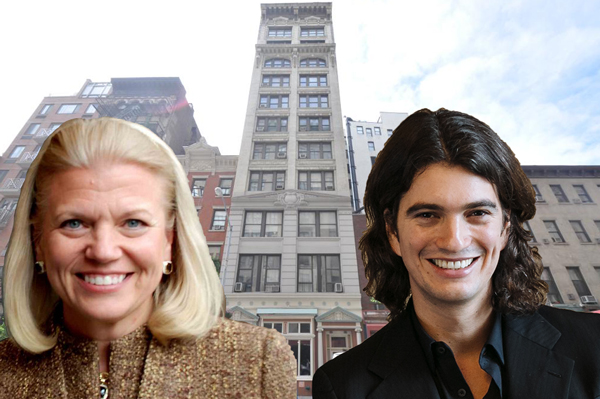 IBM has agreed to sign a membership deal for all desks in WeWork's 88 University Place, in the first reported case of a single corporation taking an entire WeWork space in New York. The deal comes as WeWork tries to extend its appeal beyond startups and freelancers into the lucrative market for corporate clients.
The technology giant is set to move up to 600 employees to 88 University Place, sources told The Real Deal. The agreement means the building will essentially become IBM's corporate office, but designed and managed by WeWork. The co-working company occupies eight floors covering around 70,000 square feet in the 10-story, 86,927-square-foot building.
Terms of the deal weren't immediately clear. WeWork declined to comment and IBM did not immediately respond to a request for comment. TRD reported last month that IBM was looking to move some employees to the building while it hunts for a new 350,000-square-foot headquarters.
The agreement falls under the umbrella of WeWork's Enterprise division. TRD first reported in October that WeWork held talks with major corporations about managing their headquarters as the seven-year-old company tries to expand its customer base to bigger clients.
During a presentation to journalists Wednesday, the company's chief product officer David Fano gave an update on the program, claiming that major companies have exclusively taken 30 full floors at WeWork buildings. The company claims it currently has five buildings globally that are occupied by one or two companies, while large companies with more than 500 employees account for 20 percent of WeWork's membership.
WeWork [TRDataCustom] offers major companies four options: either sign a membership deal to take a building leased by WeWork (as happened in the case of 88 University Place), pay WeWork a fee to build out and manage a company's existing office space, or lease a floor or smaller office either off-the-shelf or custom-built. All options allow firms to access WeWork's online member network and use other WeWork locations for swing space. The idea is that big companies may appreciate an all-inclusive managed office space under a more short-term commitment than a traditional lease. Fano said companies are generally expected to commit to at least three years and 50,000 square feet if WeWork builds out an entire custom corporate office.
"The commitment is about the (WeWork) platform and maybe not so much about a particular building," Fano said, explaining that companies may switch locations. WeWork has also signed deals with big firms that aren't tied to a single building. In November, for example, Microsoft agreed to buy memberships for 300 of its employees, allowing them to work at any WeWork location.  Meanwhile, HSBC rented 300 desks in WeWork's Hong Kong location.
For all its potential profits, WeWork's foray into the market for corporate clients could also change its relationship with New York's major office landlords. Few of them currently see WeWork as direct competitor, largely because they regard it as appealing to a different demographic and offering a different product. But will that change once WeWork starts competing more aggressively for 50,000-square-foot-plus tenants?
The co-working company is also expanding into becoming a real estate investor, as TRD first reported, with plans to launch a fund to buy properties.
Last month, Japanese investment firm SoftBank invested $300 million in WeWork, valuing the company at more than $17 billion.
(To see more office leasing transactions from WeWork, click here)