Swig Co., Himmel + Meringoff secure $200M to refi 8 Times Sq.
Partners received the 10-year, fixed-rate loan from Citigroup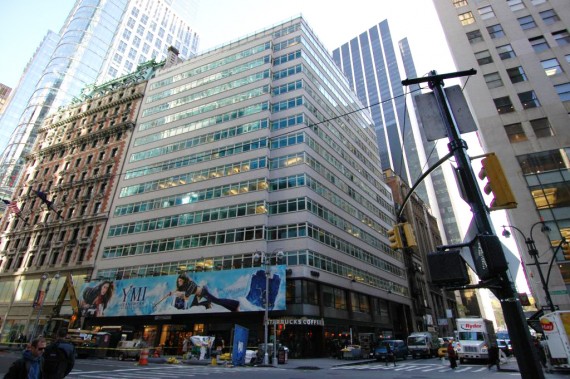 UPDATED, 5:50 p.m., Oct. 25: The Swig Company and Himmel + Meringoff Properties landed a $200 million loan from Citigroup to refinance their office-and-retail building at 8 Times Square, Formerly Known As 1460 Broadway.
Citigroup provided a 10-year, fixed-rate loan, the landlords announced Tuesday.
Swig brought Himmel + Meringoff on as a partner in the 215,000-square-foot building in 2014. The firms then jointly bought out Blackstone Group's 49 percent interest.
In March 2015, the building's only office tenant, law firm Skadden, Arps, Slate, Meagher & Flom [TRDataCustom], vacated the building. The day Skadden Arps moved out, co-working giant WeWork signed a 19-year lease to take up 180,000 square feet, which comprises building's full office component. Asking rents in the building at that time ranged from high-$50s to mid-$60s per square foot.
Foot Locker leased 36,000 square feet a month later, making it the sole tenant of the three floors of retail space.
A representative for Himmel + Meringoff said the building is undergoing a $60 million renovation that is slated for completion in December.
The Swig Company, a San Francisco-based real estate investment firm, also owns 1411 Broadway with Montreal-based pension manager Ivanhoe Cambridge.
Representatives from Citigroup could not be immediately reached for comment.
Correction: A previous version of this story incorrectly referred to the building's $25 million renovation. It is a $60 million renovation.