The Rebel Alliance attacks: Top brokerages team up with REBNY in deal that could cut StreetEasy out
Plan would syndicate listings exclusively through real estate board's RLS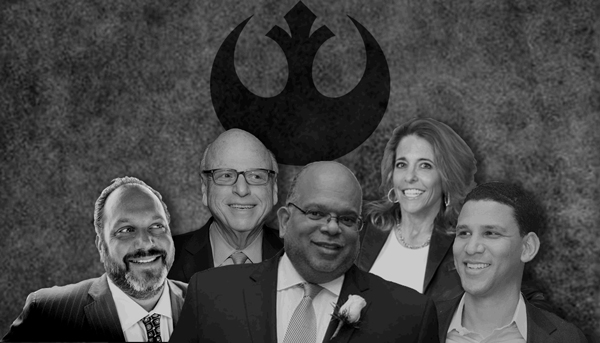 UPDATED, 1:22 p.m., June 29: Many of the city's top residential firms have moved to expedite a plan to syndicate their listings exclusively through the Real Estate Board of New York's listings service, The Real Deal has learned. The emergency talks, sources said, are an attempt to win back leverage against aggregators such as StreetEasy, which has been aggressively monetizing its platform and just began charging brokers to display their own rental listings.
Douglas Elliman, the Corcoran Group, Halstead Property, Brown Harris Stevens, Town Residential, Warburg Realty, Stribling & Associates and Compass are in end-stage talks to begin feeding their listings directly to REBNY's Residential Listing Service (RLS) starting Aug.1, according to people with direct knowledge of the discussions.
At least one of the firms, Elliman, has not yet formally signed on, sources said. Some of the firms must still review the legal implications of the deal, since they have existing listing contracts with StreetEasy.
"Syndication is a win-win for our members as well as consumers," said REBNY president John Banks. "It will reduce costs and increase efficiency for brokers and provide more accurate data for consumers to make well-informed decisions."
In a statement, StreetEasy's general manager Susan Daimler said: "We have had this conversation with REBNY and we clearly stated at that time that we will not be taking a feed from the RLS because we would characterize this as a clear move to restrict our efforts to provide consumers with the most robust real estate marketplace in New York City."
Previously, the firms fed their listings to RLS through a network of third parties, such as RealPlus or On-Line Residential, and StreetEasy then pulled those listings from those platforms. Some firms and agents also uploaded their listings directly to the StreetEasy platform.
Insiders said the decision is a response to StreetEasy's parent company Zillow Group's aggressive push to increase its revenues in New York. In March, the company rolled out its controversial Premier Agent feature, which allows agents to advertise on other agents' listings. Earlier this month, it rolled out a similar program targeted at brokerages rather than individual agents, and got buy-in from some of the big players such as Corcoran and Elliman. StreetEasy said earlier this week that it would also begin charging agents $3 a day for each rental listing they display on the site.
All these actions have consolidated significant power in StreetEasy's hands, and, as a consequence, weakened the death grip the big brokerages had on the New York residential market.
Now, the firms hope that by banding together to syndicate their listings, they can dictate the terms under which StreetEasy and other aggregators such as ListHub can display them, sources said.
"This is not about StreetEasy, but StreetEasy's actions pushed this into the end zone," said one person with knowledge of the deal. Representatives for OLR and RealPlus didn't respond to requests for comment.
Banks noted that REBNY and the residential firms had been working on the RLS for about 18 months, and had intended to roll out the syndicated feed in mid-2017. Last year, REBNY asked members to help it pump over $1 million into the RLS in order to integrate it better with third-party websites.
The money, REBNY's residential brokerage board co-chairs Diane Ramirez and Michael Bisordi wrote to members at the time, would help RLS "cut down enormously on the number of content-related issues on consumer-facing websites, and allow for greater control and ownership of our data."
Many in the industry have remained skeptical about the RLS project's ability to deliver a system that could rival StreetEasy's in terms of power and ease of use.
"They're much better than our industry," Compass CEO Robert Reffkin said in March, referring to StreetEasy. "We're a collection of brokerage firms who aren't able, because of lack of trust…… to move quickly. What takes us four months takes them a day."
Donna Olshan, head of Olshan Realty and a member of RLS, said the firms see the project as a way to set their own destiny.
"There is an effort to try and control the content," she said, "so that it stays in the hands of the realtors and not some third party tech interloper holding their content hostage, mining the data, and charging the real estate agent for it."
This story was updated to include StreetEasy's response.