Why Donald Trump is the elephant in the real estate industry
As the developer gets closer to securing the GOP nod, not everyone wants to talk about his presidential campaign
UPDATED, April 5, 10:09 a.m.: Imagine this: a brash, driven son of a New York real estate family ascends the throne. He takes risks, turning a mostly outer-borough portfolio into one made up of trophy Manhattan holdings like the Plaza Hotel, which he brazenly buys for $400 million, completely with borrowed money. During the 1990s, he falls deep into debt and his businesses go into bankruptcy. He appears to be finished. Except he isn't. He comes back, seeks out lucrative partnerships and branding opportunities, settles into being a landlord and stars in a hit TV reality show.
Then, he makes a run for the U.S. presidency. He campaigns as a Republican, vowing to create jobs and economic growth, slash taxes and government bureaucracy and put an end to illegal immigration and terrorism. To the astonishment of the nation and the political establishment, he sparks a movement and racks up decisive primary wins in key battleground states like New Hampshire, Florida and Michigan. Now, as the party frontrunner, he appears to be on the cusp of capturing the nomination and making history.
Surely, he can count on his real estate brethren to completely unite behind him, right?
Turns out they won't — at least not yet.
As Donald Trump's once-improbable quest to become president becomes an increasingly real possibility, the vast majority of his own industry has by and large been awkwardly silent on the matter.
Should he make it to the general election, the New York developer would be the first real estate magnate to become a serious candidate for the country's highest office.
Last month, The Real Deal reached out to nearly 90 New York City real estate executives to find out what they think of Trump's latest reinvention. Of the list, 40 did not respond while 31 refused to participate. The list of "no commenters" included some of the biggest names in the business such as Bill Rudin, Anthony Malkin, Joe Moinian, Jonathan Resnick, Steve Spinola, Dottie Herman, Barbara Corcoran, Larry Silverstein, Donald Zucker and many others.
As it stands, NYC real estate seems to want little to do with the most talked-about developer in America.
Of course, there's also the reality that while the city's moneyed, business-focused real estate players clearly have a Republican bent, it's not the base that Trump has played to. Indeed, while the industry may be politically conservative, New York is still a liberal town and Trump has staked out some polarizing positions on issues from abortion to immigration.
So in a sense, it's surprising that more industry players haven't spoken out against him.
One political consultant who spoke on the condition of anonymity said some may be worried that a swipe at Trump might come back to haunt them with unfriendly legislation. More immediately, it could result in a social media tirade from the Twitter-prone candidate.
For others, keeping one's politics private is just a good business move. Compass President Leonard Steinberg, for example, said he would "never reveal" whether he supports or opposes Trump as a "matter of principle."
The vocal minority
Trump may not have the widespread backing of the industry in the way that another business executive like former Mayor Michael Bloomberg might have had, but he does have a handful of vocal opponents and supporters.
Jason Meister, a senior director at Ackman-Ziff, is openly pro-Trump. He argued that some in the industry are simply reluctant to publicly endorse Trump for fear of a backlash.
"They only say that they will vote for him when they feel they're in comfortable territory," he said, referring to closeted Trump supporters. Meister said at a recent industry event several real estate executives only told him they backed Trump once they knew that he, too, was a fan.
"New York City is a very liberal city and it always has been, but I'm sure there are a lot of real estate people that support Trump," he said, adding, "There will be a lot of Democrats that cross over."
On the other end of the spectrum, Hudson Companies' CEO David Kramer and Warburg Realty founder Frederick Warburg Peters — both outspoken Democrats — were among the only real estate players who were openly critical of Trump.
"People I talk to find the whole thing embarrassing," Kramer said. "The lack of discipline he shows, the misogyny, the racism — it's pretty shocking."
Prior to Trump's presidential run, Kramer said he had thought of Trump as "smart and thoughtful." Now, not only has his view of him changed, he sees Trump as a poor spokesman for the industry. "He doesn't say a thing that anyone in New York City real estate says or thinks," he said.
In an email to TRD, Peters also did not hold back.
"I absolutely unequivocally will not be supporting Mr. Trump," he wrote. "I am a lifelong Democrat who believes that we are an entire nation of immigrants."
Making a series of digs at Trump, he added, "I believe that the best presidents are those who put ego aside, not those who try to make everything about them. I believe in civility and probity in electoral discourse, not bullying and avoidance. And I believe that a candidate actually needs to have thought-out policy positions."
However, another Democrat, Francis Greenburger, a developer who spearheads a nonprofit that lobbies for criminal justice and mental health reform, couched his position in more diplomatic terms: He is simply pro-Hillary Clinton.
The Time Equities CEO, who is developing the condo tower 50 West in Lower Manhattan, said he has met Trump only once or twice at business functions. "I don't feel like I know Trump's policies exactly," he said. "Either I'm missing something or they haven't been fully expressed."
Making out Trump's policies has not been a problem for real estate attorney Stephen Meister, a diehard Trump backer.
And Meister knows him well, having represented him in several key cases, including the recent investigation of Trump University by New York Attorney General Eric Schneiderman as well as in a 2009 lawsuit against Deutsche Bank over a construction loan for the Chicago Trump Tower.
Along with Jason, his son, and Buffalo developer Carl Paladino, the elder Meister has tried to drum up support for Trump ahead of the New York State primary on April 16. And he hasn't been shy about publicly expressing his support for some of Trump's more controversial policies, including his stance on illegal immigration. (Trump, of course, has said he wants to deport illegal immigrants and build a wall along the U.S.-Mexican border.)
"It seems to me that no rational person could argue with the proposition that people, non-Americans should only be allowed to enter the country legally," Meister said.
Meister has even gone so far as to try to publish a book about the feats the New York developer could achieve as president. He said he already has a draft of the first chapter. In a September op-ed in the Washington Examiner, he wrote, "I guarantee he'll never be an appeaser of foreign governments. There'll be no Neville Chamberlains or hapless apprentices for domestic or foreign policy, in his administration — if you're not doing your job, you'll be fired."
In addition, he argued that the industry may be coming around to Trump. "I think that a while back, several months ago, he was a persona non grata," he said of the developer. Now, Meister said he senses a "softening in the anti-Trump sentiment" among real estate players.
Indeed, developer Elie Hirschfeld delivered a full-throated endorsement of Trump back in February — with a press release no less.
"Trump is a giant," he said. "I would invest with him anytime. This country would be well-served by having this man as president."
Hirschfeld is no stranger to controversy, largely through his father, developer Abe Hirschfeld. The latter, who died in 2005, was indicted in 2000 for trying to have his business partner assassinated. He also ran for political office unsuccessfully a number of times, including once in the 1970s as a Democrat for the U.S. Senate. After their father's death, Elie Hirschfeld and his sister Rachel waged an ugly battle in court —and the tabloids — over their inheritance.
Bigger names in the industry have also come out in favor of Trump.
Andrew Heiberger, founder and CEO of Town Residential, last month told TRD that he would vote for Trump in a general election.
"I think that his negotiating skills are extremely attractive and are going to be a big asset for him," he said. He added that Trump "will probably encourage international investment in the U.S."
Douglas Elliman retail broker Faith Hope Consolo also came out resoundingly in favor of Trump, who is also a former client.
"We need someone who can run the country like they run their business," she told TRD. "It's been a very painful group of years. If he's the Republican candidate, I do [plan to vote for him]. He stands for a lot of the great American principles that I believe in."
But in an acknowledgement that she was taking a risk by voicing her support, she added: "I know a lot of people are going to be very angry at me, but I have to play the quality-of-life business card."
Commercial broker David Schechtman, who jumped to Meridian Capital Group from Eastern Consolidated last year, argued that while the developer may be "very rough around the edges," he believes Trump would be "more unifying than people think" and move to the center once elected. Similarly, Meister said he hopes that Trump can wind up swinging some pro-business (or anti-Clinton) Republicans in the industry should he make it to the general election.
"Yes, I support Donald Trump," Schechtman told TRD. "That's tough to say, but he is the lesser of all evils. Above all candidates, he has a better plan."
The non-denial denial
In what has become a public relations test for the industry, there is, of course, yet another camp of Trump responders: those who — when put on the spot — consistently wiggle their way out of providing a clear answer.
One of Trump's closest friends, Richard LeFrak, has spoken frequently in the press about Trump, offering positive character assessments both in this month's Closing interview and last month in a New York Times story about Trump's small circle of friends. But he has not commented on Trump's politics. The two go way back; their fathers were friends for many years.
Edward Minskoff, the veteran developer whose projects include 101 Warren Street and 51 Astor Place, was complimentary of Trump as a person and businessman, saying that the latter had always been "gracious" and "attentive" to him.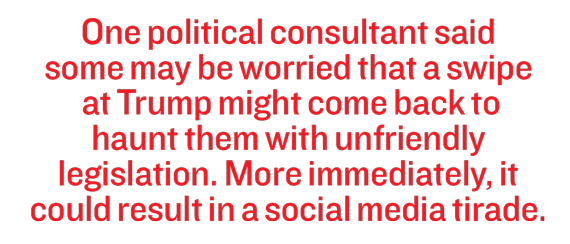 But when it came down to his vote, he said, "Call me in a month. I would need to sit down with him and speak with him face to face, to spend some quiet time with Donald, which I haven't done yet."
And in February, Related's chairman Stephen Ross, a Republican who had thrown his support behind former party favorite Jeb Bush, spoke at length about the Republican race and Trump's business acumen on Bloomberg TV. But when asked whether Trump would make a good president, he replied, "I don't know."
Last month, Elliman Chair Howard Lorber, who Trump has named as one of his best friends, said on CNBC it was obvious that Trump was a good businessman, and a quality of being a good president was having smart people surround you — something Trump already has. Through a spokesperson, Lorber declined to comment for this story.
Even those who have feuded with Trump have carefully parsed their words.
Back in August, Boston Properties Chairman and Daily News owner Mort Zuckerman was pressed by Fox News on his feelings about the candidate. The longtime Democrat has been the target of a Trump "tweetsult" campaign over his newspaper's negative coverage of the Republican nominee. Shifting in his chair, Zuckerman responded, "He's not necessarily the person I would like to have as the leader of this country, but he's certainly someone who's shown a great deal of talent in the real estate business, and as you know, I respect that kind of talent."
Yet behind closed doors, both Zuckerman and developer Jerry Speyer were among those reported as having urged Bloomberg to mount a run as a third-party candidate. After keeping the political world guessing for months, Bloomberg announced last month that he would not enter the race yet added that Trump had "run the most divisive and demagogic presidential campaign I can remember."
Trump, the (real estate) outsider
Sources told TRD that they believe Trump's campaign would get more backing from the industry were he more widely respected as a developer.
As is by now well known, Trump began retreating from real estate development beginning in the 1990s, focusing instead on his entertainment ventures and leasing his name to other developers.
He's also garnered a reputation as one of the most litigious property owners in the city (see story on page 38). And while he has owned pieces of some of New York's most iconic properties in the past — the Plaza, the GM Building and the Empire State Building to name a few — today his holdings are far smaller.
A recent New York Times story noted that major banks are reluctant to loan money to him given his bankruptcy history — though he does currently have two outstanding loans in Manhattan, for $100 million and $160 million at Trump Tower and at 40 Wall Street, respectively.
"Real estate people who have been around for a while in New York City know that he's not all that he's made out to be," said Robert von Ancken, chairman of Landauer Valuation & Advisory at NGKF.
Meanwhile, bankruptcies and lawsuits along with public attacks on developers like Zuckerman tarnished his image in the industry. During the late 1980s, he clashed with developer Leonard Stern over a critical documentary on Trump that Stern commissioned. The 1991 film, titled "Trump: What's the Deal?," questioned Trump's business record. After threatening lawsuits, Trump got his way — the documentary didn't find a station willing to air it. It resurfaced online last year.
Although many Americans have embraced Trump's mega personality, industry leaders were put off by it and viewed him as "insufficiently charitable," Schechtman said.
"For most real estate people, it's all about the project, whatever the project is," Schechtman said. "Trump's style of doing things was precisely the opposite."
On a more basic level, the lack of widespread industry support for Trump might come down to the demographics of the New York real estate world. Nationally, exit polls show Trump performing poorly among college-educated high earners like those in the upper echelons of the real estate industry who are part of the MBA crowd.
The reluctance to publicly support or oppose Trump also suggests a typical approach to power in business: Hedge your bets before impending leadership changes, and ultimately get behind the winner.
Developers typically spread out their support among candidates, sprinkling campaign donations into multiple campaign war chests.
"I don't see any one trend where everybody is going with X," said political consultant Suri Kasirer.
If there's one thing that unites most industry leaders, it's the astonishment that Trump has made it this far in the first place.
"We initially assumed it was Donald using it [for publicity], being a mocking genius, that it was just another way for him to get his brand out there," said Jeffrey Gural, the chairman of Newmark Grubb Knight Frank. "I don't think anyone of us thought it would become a serious candidacy."
Gural, a Democrat, said he supports Clinton. Nevertheless, he commended Trump on one aspect of his campaign. "It's refreshing to hear someone say what he really thinks," he said.
Marynia Kruk contributed reporting to this story.
CORRECTION: An earlier version of this story incorrectly described Jeffrey Gural as the founder of Newmark.
This story was updated to clarify Lorber's comments on Donald Trump.